You all should know that this dish had me at "runny egg on top." I'm a sucker for that oozing yellow center. I should really make a runny egg category! I'm also growing squash on my deck in a container and couldn't wait to use it for this Sausage & Black-Eyed Pea Hash. It seemed like a really hearty dish with all those veggies and all for under 250 calories!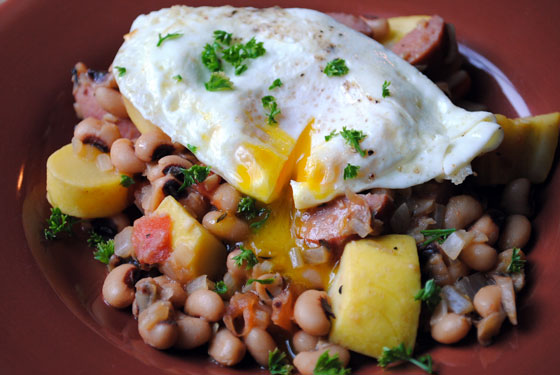 So, how's it taste?
First, let me point out that I've included the original recipe below, but I don't like celery or red bell peppers, so I left them out and made up the difference with extra squash. I really enjoyed the flavors in this hash. It's very similar to this Black-Eyed Pea & Sausage Soup I made last year. I guess I have a thing for that combo! I didn't realize it until I took a bite and recognized the flavor. The Dijon, Worcestershire, and apple cider add a real spark of tang (but not at all sour) that the creamy peas and sausage balance out. Not to mention that ooze of runny egg goodness. It's a masterpiece of savory deliciousness with different textures to keep it interesting. I imagine this dish could be made with just about any veggies. Zucchini and carrots come to mind, some spinach, too. I did have a small oops! though. I'm used to cutting my squash a little big for roasting them and they were too big for this recipe. Not enough cooking time left them on the crunchy side. I didn't want to keep cooking them and reduce my sauce to nothing. I didn't mind the crunchy though, it was that good anyway! You'll also notice I didn't dice my sausage. I do like those in big chunks and they worked fine in that size.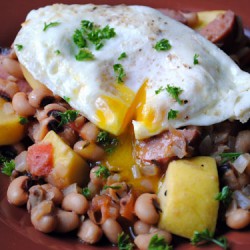 Sausage & Black-Eyed Pea Hash
Ingredients:
8 oz. diced turkey andouille sausage
1 cup sliced celery (about 2 stalks)
1 cup chopped fresh tomato
1 medium red bell pepper, cubed
1 medium yellow squash, cubed
1/4 cup water
2 tsp. chopped fresh thyme
2 tsp. cider vinegar
2 tsp. Worcestershire sauce
2 tsp. Dijon mustard
1 (15 oz.) can no-salt-added black-eyed peas, rinsed and drained
1 tbsp. canola oil or butter (I used butter)
4 large eggs
1/4 tsp. freshly ground black pepper
Fresh parsley, optional for garnish
Directions:
1. Heat a large nonstick skillet over medium-high heat. Add sausage; sauté 4 minutes or until lightly browned, stirring occasionally. Add celery and next 3 ingredients (through squash); sauté 3 minutes, stirring frequently.
2. Add 1/4 cup water and next 5 ingredients (through peas). Simmer 2 minutes or until peas are thoroughly heated. Remove pea mixture from pan; keep warm. Wipe pan with a paper towel.
3. Return pan to medium heat. Add oil or butter to pan; swirl to coat. Crack eggs into pan; cook 4 minutes or until whites are set. Remove from heat.
4. Place about 1 cup pea mixture onto each of 4 plates; top each serving with one egg. Sprinkle eggs evenly with black pepper and fresh parsley.