Sign me up for any kind of enchilada, but especially one that is packed with cheese, sour cream, and spinach and takes hardly anytime to whip together. I made these Creamy Spinach Enchiladas last Saturday for lunch and I was counting on it being a quick meal since I had a certain college football game to watch. I only had to chop a few green onions and do some stirring and that was about it for this dish!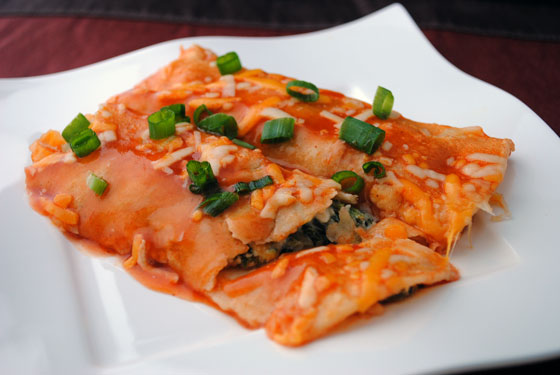 So, how's it taste?
I really enjoyed them. They aren't going to fill you up for hours and hours, but they are the perfect light lunch. At only 217 calories per serving, you could easily add a side to round out the meal. They'd be great paired with a salad to give a little bit of crunch as a contrast. The inside lives up to the creaminess with all that cottage cheese, sour cream, and Cheddar Jack. It's quite the simple dish, but worked great because I was in a hurry, but wanted a home-cooked meal. You could definitely bulk it up with a protein or add more veggies to the filling. Feel free to substitute ricotta for the cottage cheese, too. Next time I make these, I think I'll add some jalapenos for a bit of a kick and more crunch. This is a great base recipe for a quick enchilada meal.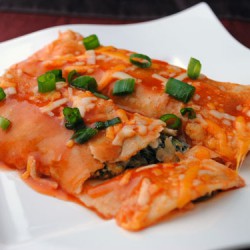 Creamy Spinach Enchiladas
Ingredients:
1 tbsp. butter
1/2 cup sliced green onions, reserve a few for garnish
9 oz. frozen spinach, thawed, well drained
1 cup low-fat cottage cheese
1/2 cup light sour cream
4 oz. (1 cup) Cheddar Jack cheese
salt & pepper, to taste
12 6-inch corn tortillas
10 oz. enchilada sauce
Directions:
1. Heat oven to 375°F. Melt butter in large skillet over medium-high heat. Add 1/2 cup onions; cook and stir 2 minutes or until crisp-tender. Add spinach; cook 1 minute or until spinach is thoroughly heated, stirring occasionally. Remove from heat. Stir in cottage cheese, sour cream, and 3/4 cup of the cheese. Season to taste with salt and pepper.
2. Spoon 1/4 cup filling down center of each tortilla; roll up. Place, seam side down, in ungreased 13x9-inch (3-quart) glass baking dish. Pour enchilada sauce evenly over tortillas; sprinkle with remaining cheese.
3. Bake for 15 to 20 minutes or until bubbly and thoroughly heated. Sprinkle with sliced green onions.