This recipe brings back such memories for me. I had just moved into a one-bedroom apartment in Tuscaloosa, even though I had a job an hour away in Birmingham, in anticipation that I would be accepted into graduate school a few months later, and this was the first time for me living by myself. Thankfully my risk paid off and I was accepted! A few months earlier my mom had given me a cooking magazine and by this time I had a subscription. I couldn't wait to try Fiery Dragon Stir-Fry and start making home-cooked meals in my cute, little apartment I had all to myself. This is one of the first recipes I remember cooking that started the spark and what seems like not that much later, here I am with a blog. So I hope you enjoy this recipe as much as I did back then and still do today.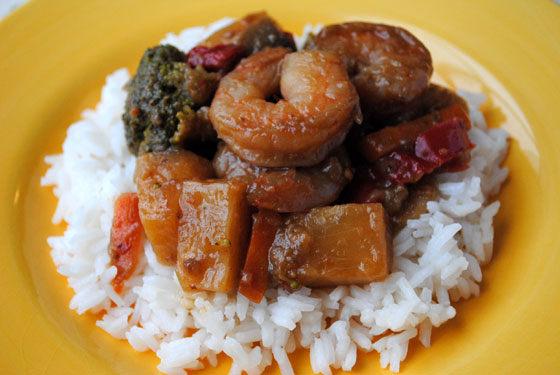 So, how's it taste?
It really doesn't get easier than this dish. As you know, shrimp takes no time to cook, so this is perfect for a quick weeknight or lazy weekend meal. There's all kinds of flavors going on which is why it's one of my favorites. Sweet from the pineapple, salty from the soy sauce, savory from the veggies, and a heat that'll sneak up on you! I love sweet and heat together and this dish definitely delivers. I also like the crunch from the veggies and big chunks of pineapple and tender shrimp. Not too shabby for a girl just learning her way around a kitchen not that long ago. 😉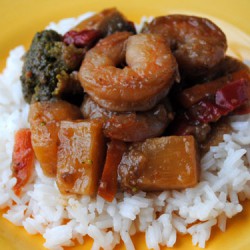 Fiery Dragon Stir-Fry
Cooking for the Chinese New Year by Dole, Kikkoman, & Success Rice
4 servings; 493 calories, 9g fat, 32g protein, 71g carbs
Ingredients:
4 servings white or brown rice, cooked according to package directions
1-20 oz. can pineapple chunks
1/3 cup plus 1 tbsp. soy sauce, divided
2 tbsp. cornstarch, divided
3/4 to 1 tsp. crushed red pepper
3/4 tsp. garlic powder
1/2 cup water
1 lb. fresh medium-sized shrimp, peeled & deveined
2 tbsp. vegetable oil
1-16 oz. package frozen Oriental vegetable medley
1 tsp. minced fresh ginger
Directions:
1. Drain pineapple, reserving 1/4 cup juice. Blend reserved juice with 1/3 cup soy sauce, 1 tbsp. cornstarch, red pepper, garlic, and 1/2 cup water; set aside.
2. Combine shrimp with 1 tbsp. cornstarch and soy sauce. Heat 1 tbsp. oil in hot wok or large skillet over high heat. Add shrimp and stir-fry 2 minutes; remove.
3. Heat remaining 1 tbsp. oil in same pan. Add frozen vegetables and ginger, stir-fry 4 minutes. Add soy sauce mixture and shrimp; cook, stirring, 1 minute, or until sauce boils and thickens. Stir in pineapple and heat through. Serve over rice.