These Beer Bratwursts were our main course for the 4th. Can't beat grilling on that holiday and thankfully the rain stayed away just enough for us to fire up the grill. They first cook in a bath of beer with tons of spices and savory flavors. Then it's off to the grill to finish before they get nestled in a bun with fancy condiments.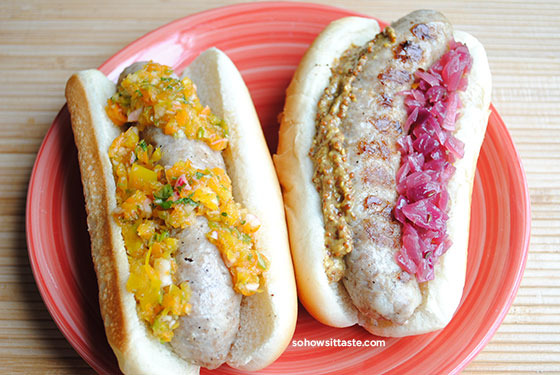 So, how's it taste?
Wow, they were fantastic! Cooking them in all that delicious beer and company gives them so much flavor. I've made these twice now, once for the 4th and once at home. If you don't have a grill, an indoor electric one works just fine. The first time, I used pre-cooked brats and the second time I used raw. You can make this recipe with both, just reduce the cooking time in the liquid and on the grill if you're using pre-cooked. The original recipe calls for adding butter to the reserved liquid to baste them while grilling, but I found that gives the brats a really greasy coating that they don't need. These brats are so tasty by themselves, they don't really need a condiment, but as you can see, I got fancy in that area, too. Stay tuned for the recipes for Sweet & Sour Onions and Bell Pepper Relish!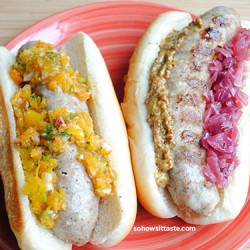 Beer Bratwursts
Ingredients:
2 12-oz. bottles lager beer
1 large onion, cut into wedges
4 cloves garlic, smashed
1 2-inch piece ginger, thinly sliced
1 tsp. caraway seeds
2 bay leaves
2 whole cloves
6 to 8 links fresh bratwurst (about 2 1/2 lbs.)
6 to 8 buns or Italian-bread segments
Whole-grain mustard, for serving
Directions:
1. Combine 6 cups water, the beer, onion, garlic, ginger, caraway seeds, bay leaves, and cloves in a large pot over medium-high heat; bring to a gentle simmer and cook 10 minutes. Add the bratwursts, return to a simmer and cook until almost done (the meat should still be slightly pink in the center), about 15 minutes. Remove from the heat and let the bratwursts cool completely in the cooking liquid, about 1 hour.
2. Preheat a grill to medium high. Reserve 2 cups of the cooking liquid.
3. Grill the bratwursts, occasionally turning and basting with the reserved liquid, until marked and cooked through, 10 to 12 minutes. Serve on rolls with mustard and other toppings.