I thought I knew every way to cook a potato. And I also thought I'd already hit the jackpot with hashbrowns, as in Cracker Barrel's Hashbrown Casserole. All that changed when I found Sharp Cheddar and Hashbrown Patties. Cheesy hashbrowns cooked on the grill until golden and crispy! Makes a perfect side to any summer grilling main course.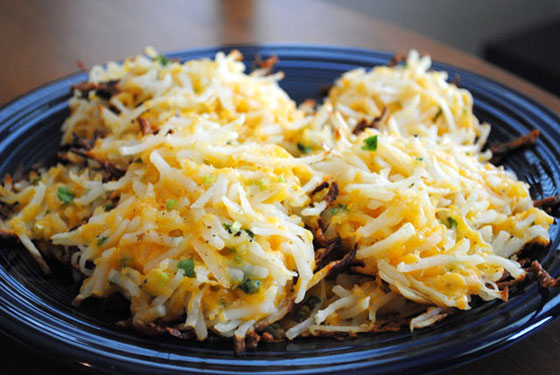 So, how's it taste?
Individual portions of cheesy, crunchy, satisfyingly good haystacks of potatoes! This is a nice alternative to your basic potato sides like potato salad or a baked potato. Something different for us potato-lovers and it's insanely easy to make. The recipe calls for roasted red peppers, but I'm not a fan so I didn't include them in mine. It was fun to make these patties and have them sizzling on the grill alongside the burgers. The green onions and seasoned salt make these taste so good. I ended up adding a little more salt to my recipe. We used a griddle plate on a gas grill, but you could use a contact grill. Mix all the ingredients, grill about 10 minutes, and that's it! I'll be making these all summer long!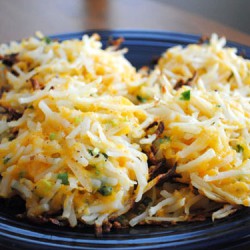 Sharp Cheddar and Hashbrown Patties
Ingredients:
1 (1 lb. 4 oz.) refrigerated hashbrown potatoes
6 oz. finely shredded sharp cheddar
1/2 c. chopped green onions
1/4 c. chopped roasted red peppers, if desired
1/2 tsp. seasoned salt
1/4 tsp. garlic pepper
Directions:
1. Heat closed contact grill for 5 minutes.
2. In large bowl, combine all ingredients.
3. When grill is heated, for each patty, measure generous 1/2 cup potato mixture; place directly on bottom grill surface. Each mound will be about 2 inches high. Close grill; cook 8 to 10 minutes or until patties are golden brown and crisp.