The first day of Fall was official last Friday, and you can definitely tell it's that time of year by reading all the pumpkin posts popping up on food blogs. I love finding out new ways to use pumpkin, whether it's in a savory dish or a dessert. These Pumpkin Cream Cheese Muffins are certainly a classic in the sea of pumpkin recipes. Although they're called muffins, they could easily be mistaken for cupcakes since they are so moist and sweet.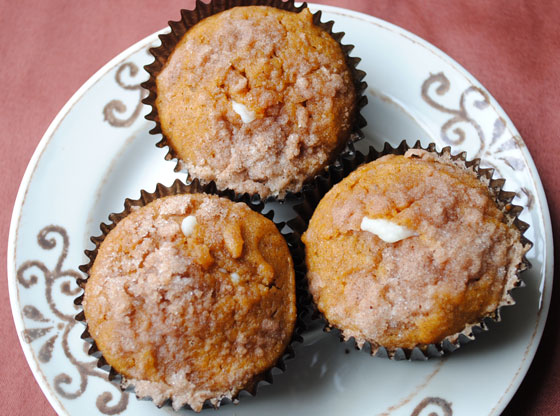 So, how's it taste?
I have to confess that I actually made these back in May! A friend of mine requested them for one of his clients at work and I hear they were a hit. I've been saving them for months to post and now Fall is finally here!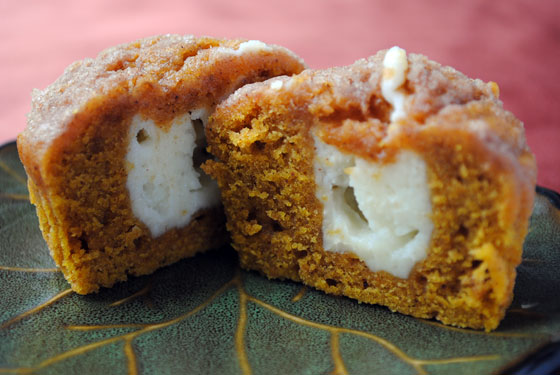 Cream cheese is such a good pairing with pumpkin. I happen to really like filled cupcakes and muffins, so these are right up my alley. The muffins are sweet, but not overpowering. The crumb topping gives a nice sugary crunch and the pumpkin pie spice shines throughout. They are definitely knock-your-socks-off good and easier to make than you'd think. The cream cheese does come through the top while they are baking, but most of it will go back in the muffin as they start to cool. This is a great way to start your day with one of these muffins and a cup of coffee!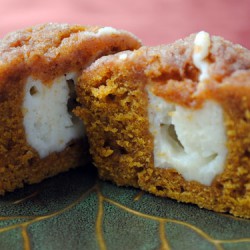 Pumpkin Cream Cheese Muffins
Ingredients:
Muffins
3 cups all-purpose flour
1 tsp. ground cinnamon
1 tsp. ground nutmeg
1 tsp. ground cloves
1 tbsp. plus 1 tsp. pumpkin pie spice
1 tsp. salt
1 tsp. baking soda
4 large eggs
2 cups sugar
2 cups pumpkin puree
1 1/4 cups vegetable oil
Filling
8 oz. cream cheese, softened
1 cup confectioners' sugar
Topping
1/2 cup sugar
5 tbsp. flour
1 1/2 tsp. ground cinnamon
4 tbsp. cold unsalted butter, cut into pieces
Directions:
1. For the filling, combine the cream cheese and confectioners' sugar in a medium bowl and mix well until blended and smooth. Transfer the mixture to a piece of plastic wrap and shape into a log about 1 1/2-inches in diameter. Smooth the plastic wrap tightly around the log, and reinforce with a piece of foil. Transfer to the freezer and chill until at least slightly firm, at least 2 hours.
2. For the muffins, preheat the oven to 350F. Line muffin pans with paper liners. In a medium bowl, combine the flour, cinnamon, nutmeg, cloves, pumpkin pie spice, salt, and baking soda; whisk to blend. In the bowl of an electric mixer combine the eggs, sugar, pumpkin puree, and oil. Mix on medium-low speed until blended. With the mixer on low speed, add in the dry ingredients, mixing just until incorporated.
3. For the topping, combine the sugar, flour, and cinnamon in a small bowl; whisk to blend. Add in the butter pieces and cut into the dry ingredients with a pastry blender or two forks until the mixture is coarse and crumbly. Transfer to the refrigerator until ready to use.
4. To assemble the muffins, fill each muffin well with a small amount of batter, just enough to cover the bottom of the liner (1-2 tablespoons). Slice the log of cream cheese filling into 24 equal pieces. Place a slice of the cream cheese mixture into each muffin well. Divide the remaining batter among the muffin cups, placing on top of the cream cheese to cover completely. Sprinkle a small amount of the topping mixture over each of the muffin wells.
5. Bake for 20-25 minutes. Transfer to a wire rack and let cool completely before serving.