After the title alone, who's not running to the kitchen to bake these?! Milky Way Cupcakes with Caramel Buttercream are heaven. I've made this recipe before in a cake version and it didn't turn out so well, so I was determined to conquer it. I made the cake version years ago for Thanksgiving, where my impatience got the best of me and I didn't wait for the caramel to cool before making the buttercream. BIG mistake! Halfway through dinner my cake layers started a slippin' and a slidin'. I was mortified, but it still tasted good even though it resembled chocolate caramel slop!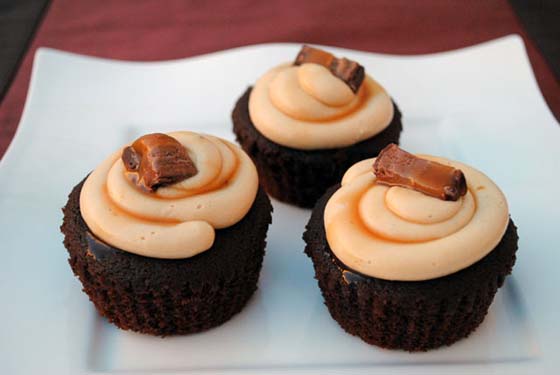 So, how's it taste?
Oh my my my. The chocolate cake is decadent and moist. You can still taste the Milky Way bars in them. What makes these cupcakes so special is the buttercream. I'll be the first to admit that I'm a tub frosting girl. Say what? Yep, I said it. I like the way it tastes way better than most homemade frostings. That is until I made this caramel buttercream. What made me do it? These beauties were Family Bites's birthday treat and you don't just make any ol' cupcake for her and you don't even think about using tub frosting. Take a look at her blog and see her yummy cupcakes, and especially check out the most fabulously decorated cupcakes ever! *Snicker *Snicker
Ok, ok, I'm getting off track. The frosting is really easy to make. It's got melted Kraft caramels and milk for the caramel. You can taste that distinct Kraft caramel flavor, which is the point seeing as this recipe is from The Candy Bar Cookbook. Then add the COOLED caramel to butter and powdered sugar. Ta da! For an extra special touch, I drizzled caramel over the frosted cupcakes and added a chopped piece of a Milky Way bar. Scrumptious!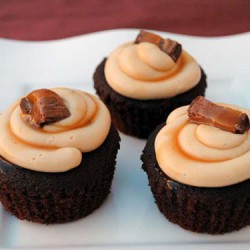 Milky Way Cupcakes with Caramel Buttercream
Ingredients:
Cake
3 Milky Way bars (2.05 oz. bars) (Buy an extra bar if you want for decoration.)
1 3/4 cup milk, plus 2 tbsp.
3/4 cup unsweetened cocoa
2 cups flour
1 tbsp. baking powder
1/2 tsp. baking soda
1/4 tsp. salt
4 oz. butter (1 stick), room temperature
1 cup sugar
1/2 cup brown sugar
1/2 tsp. vanilla
2 eggs
Buttercream*
25 caramels (I use Kraft)
1/4 cup milk
4 oz. butter (1 stick), room temperature
2 1/2 cups powdered sugar, sifted
1/4 tsp. vanilla
*This buttercream recipe is enough for about 36 cupcakes. Double it if you prefer to make the layer cake.
Directions:
1. For the cake: In a heavy saucepan over medium-low heat, melt the candy bars with 2 tablespoons milk. Stir until smooth. Remove from heat and cool for 10 minutes.
2. Preheat the oven to 350 and lightly butter and flour your cupcake pan (or two 9-inch round cake pans).
3. In a medium bowl, combine the cocoa, flour, baking powder, baking soda, and salt. Set aside.
4. In a large bowl, cream together the butter, sugar, brown sugar, and vanilla on high until well blended.
5. Add the eggs one at a time and beat for 30 seconds on high, scraping down the sides of the bowl after each addition.
6. Add the Milky Way mixture and mix for 30 seconds on high.
7. Add 1/2 of the four mixture and 1/2 the remaining milk to the butter mixture and mix well, scraping down the sides of the bowl. Add the remaining flour mixture and milk. Mix thoroughly until incorporated. Pour the batter into prepared cake pans.
8. Bake for 28 to 30 minutes or until a toothpick inserted in the middle of the cake comes out clean.
9. Cool the cupcakes in the pan for 10 minutes. Invert the cupcakes onto a rack and cool completely before frosting.
10. For the buttercream: In a medium saucepan over medium-low heat, melt the caramels, stirring often. Remove from heat and stir in milk until smooth. Set aside and cool to room temperature.
11. In a medium mixing bowl, cream together the butter, powdered sugar, and vanilla for 3 minutes on high.
12. Add the cooled caramel and mix on high for 2 minutes. Frost your cupcakes!