Let's just deal with the elephant in the room right off the bat. The picture of this Fresh Lemonade Cake isn't going to come close to doing it justice. I try to do most of my cooking and baking on the weekend when I have more natural light, but when it's a birthday at work, that isn't always possible. Which leaves me to baking during the week and by the time that's done, it's pitch black outside. The result is me getting up early and trying to photograph this cake when it's barely light outside and with my cake carrier bottom. I was also super lazy with the wax paper so it left indents in the cake. Oops! Y'all know I don't get fancy for pics anyway, but I thought I needed to explain myself on this one! Now back to the cake. This recipe comes from Cooking Light and it's a revamp of a popular cake recipe. It's absolutely fantastic. You know I love, love, love chocolate desserts, but it's nice to get a break from them. This is probably one of the best lemon cakes out there.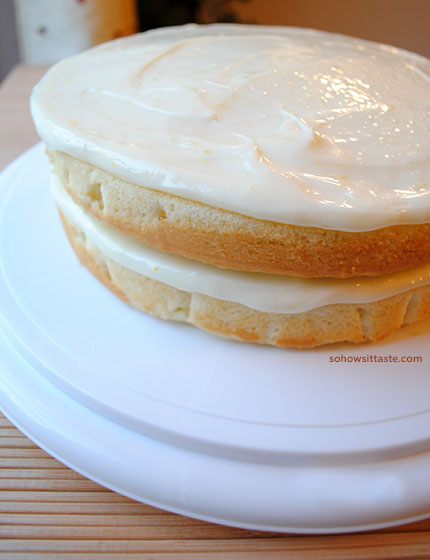 So, how's it taste?
I'm not a big fan of cake flour because of its texture, but it really works in this recipe. The cake is just barely scented with lemon and it's light and delicate. The only thing lemon about it is the lemon peel. It's not too sweet either, which makes it a great vehicle for the lemonade syrup and frosting. While the cake is cooling, it gets pierced with a toothpick all over and then brushed with the most fantastically tangy and sweet lemonade syrup. The frosting is made of cream cheese, lemon juice, and powdered sugar. No butter here, but it's amazing. It's almost a cross between a glaze and buttercream.
I jokingly referred to this cake as the delicate lemon cake. It's so light. Not too rich, not heavy at all. Just simple and full of lemon. Not too tart, not too sweet. If you're a lemon lover, I think you'll agree it's just perfect. I will warn you, however, that it's quite a few steps and I felt like I dirtied a million dishes making this. I promise it is well worth the effort.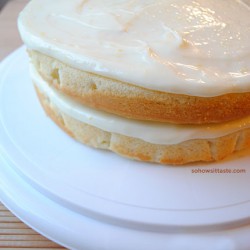 Fresh Lemonade Cake
Ingredients:
Cake
Baking spray with flour (cooking spray works, too)
2 3/4 cups cake flour
1 tsp. baking powder
1/2 tsp. baking soda
1/2 tsp. salt
3/4 cup nonfat buttermilk*
1/2 cup 1% low-fat milk
1 cup granulated sugar
5 tbsp. butter, softened
3 tbsp. canola oil
2 large egg yolks
1 tbsp. grated lemon rind
3 large egg whites
1/8 tsp. cream of tartar
Lemonade Syrup
1/4 cup granulated sugar
2 tbsp. fresh lemon juice
2 tbsp. finely chopped lemon sections
1 tbsp. water
Frosting
8 oz. 1/3-less-fat cream cheese, chilled
2 tsp. grated lemon rind
1 tsp. fresh lemon juice
2 1/2 cups powdered sugar
*Note: If you don't want to buy buttermilk just for this recipe (I didn't), measure 3/4 tablespoon of white vinegar and place in measuring cup. Fill to 3/4 cup line with milk. Let sit for 5 minutes.
Directions:
1. Preheat oven to 350°F.
2. To prepare cake, lightly coat 2 (8-inch) round metal cake pans with baking spray; line bottoms of pans with wax paper. Coat wax paper with baking spray.
3. Weigh or lightly spoon flour into dry measuring cups; level with a knife. Combine flour, baking powder, baking soda, and salt in a medium bowl, stirring well with a whisk. Combine buttermilk and low-fat milk. Combine 1 cup granulated sugar, butter, and oil in a large bowl; beat with mixer at medium speed 3 minutes or until light and fluffy. Add egg yolks, 1 at a time, beating well after each addition. Beat in 1 tablespoon rind. Add flour mixture and milk mixture alternately to butter mixture, beginning and ending with flour mixture and beating just until combined.
4. Place 3 egg whites and cream of tartar in a medium bowl; beat with a mixer at high speed until medium peaks form, using clean, dry beaters. Gently fold egg white mixture into batter. Divide batter evenly between prepared pans. Bake at 350° for 25 minutes or until a wooden pick inserted in center comes out clean. Cool in pans 10 minutes on wire racks. Loosen edges with a knife, and invert cake layers onto racks. Carefully remove wax paper, and discard.
5. To prepare lemonade syrup, while cake layers bake, combine 1/4 cup granulated sugar and next 3 ingredients (through 1 tablespoon water) in a 1-cup glass measure. Microwave at HIGH 45 seconds or until mixture boils; stir until sugar dissolves. Cool slightly. Pierce warm cake layers liberally with a wooden pick. Brush syrup over warm cake layers until all of syrup is absorbed. Cool completely.
6. To prepare frosting, place chilled cream cheese, 2 teaspoons rind, and 1 teaspoon juice in a large bowl; beat with a mixer at medium speed until well combined. Gradually add powdered sugar; beat at low speed just until blended (do not overbeat). Place 1 cake layer on a plate, and spread half of frosting over top. Top with remaining cake layer. Spread remaining frosting over top of cake. Store cake, loosely covered, in refrigerator.