Say hello to instant diabetes…or a serious sugar coma. These Oreo-stuffed Pumpkin Chocolate Chip Cookies are not for the faint of heart. They are huge globs of spicy, rich, moist cookies with an Oreo stuffed inside. Even for someone with a vicious sweet tooth (like me), you'll want a huge glass of milk handy. But all the calories are totally worth it.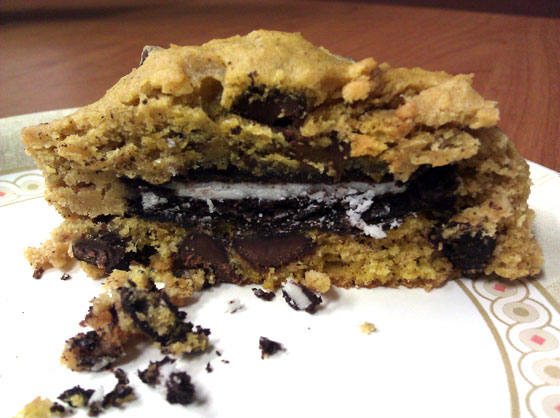 So, how's it taste?
Incredibly rich and decadent. The cookies are huge, so you'll probably want to eat half at a time…if you can resist. The cookies are moist and almost cake-like, which makes the Oreo tucked inside soft, but it's still delicious. Surprisingly, all the chocolate from the chips and Oreo doesn't overpower the pumpkin or the spices. It's a subtle spice, but enough you make you warm and fuzzy inside. And also makes me wish Oreo would make a pumpkin flavor!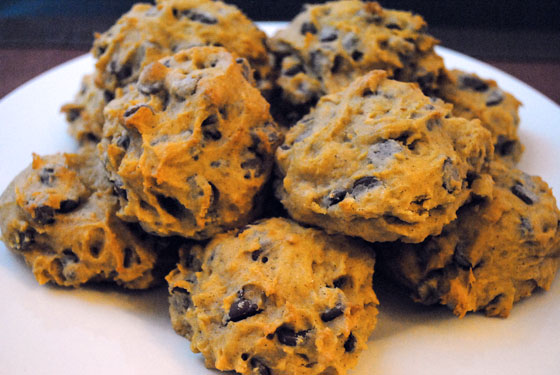 Be prepared to get messy with wrapping the dough around the Oreos. The dough is extremely sticky and will want to stick to your hands more than the Oreo. It can get tedious and frustrating, but the outcome is so worth it. What I like best is the dough doesn't spread out when baking. Those big globs stay big globs. I was disappointed that the Oreo didn't return to it's crunchy state, but with pumpkin in the mix, they didn't stand a chance. I may try making them again using prepared cookie dough like I did with these Pumpkin Chocolate Chip Sandwiches. I think the dough would be firmer and easier to wrap around an Oreo. It might even keep the Oreo crunchy!
They're still irresistibly good. They're crazy good a few minutes out of the oven, with the chips melted and gooey. Like I said, get a glass of milk handy…a big glass!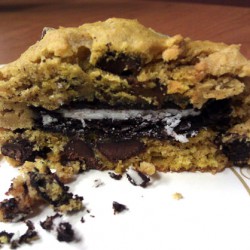 Oreo-stuffed Pumpkin Chocolate Chip Cookies
Ingredients:
1 cup pumpkin
1 cup sugar
1/2 cup butter, softened
1 egg
1 tbsp. vanilla extract
2 cups flour
2 tsp. baking powder
1 tsp. cinnamon
1/2 tsp. ginger
1/4 tsp. cloves
1/4 tsp. nutmeg
1/2 tsp salt
1 tsp. baking soda
1 1/2 cups semisweet chocolate chips
16 Oreos
Directions:
1. Preheat oven to 375F.
2. Combine the pumpkin, sugar, butter, egg, and vanilla into a mixing bowl. Using a hand mixer, blend together until smooth.
3. In a separate bowl, combine the remaining dry ingredients, except the chocolate chips.
4. Add the dry ingredients to the wet ingredients. Mix by hand until the dough comes together. Do not over mix. Add the chocolate chips. Mix in gently until incorporated.
5. Using a medium scoop or a spoon, place a scoopful of the cookie dough on the top of an Oreo. Do the same for the bottom. Squish (that's a technical term!) the dough around the Oreo until it's completely covered. The dough will be really sticky. Place on an ungreased cookie sheet. Do this for all 16 Oreos.
6. Bake for 12-14 minutes. (The cookies will not spread or get very golden since the pumpkin tints them orange. Mine baked for the full 14 minutes.) Cool on cookie sheet for 5 minutes. Transfer to a wire rack to cool completely.
*Note: Oreos inside will remain soft since these cookies are more cake-like than crisp.