Cookie number five from baking day. We've reached the halfway cookie! My mom picked out these Mint Chocolate Chip Cookies after seeing them in a magazine. I secretly turned up my nose to them because they have a sugar cookie base and I hate sugar cookies. I thought for sure they weren't going to be close to good. However, I am a big fan of chocolate and mint together, and I guess my mom could pick one cookie after I picked the other eight, lol!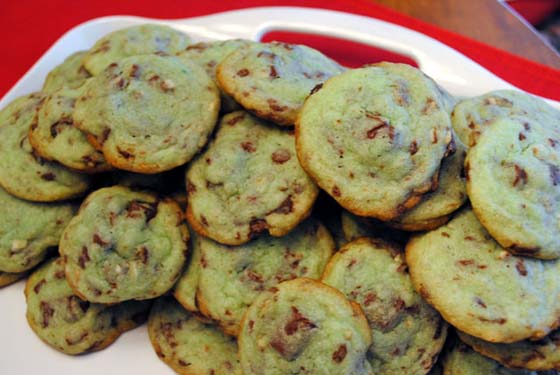 So, how's it taste?
Well, big shocker here, mom was right! These were the best mint chocolate chip cookies ever. I couldn't believe it. They are incredibly minty and I loved both the chocolate chips and the mint chips. They were crispy on the outside and chewy on the inside, which is my favorite cookie texture. This cookie came a close second to another cookie for my absolute top favorites. I brought a bunch of cookies to work and am more than happy to leave them, but somehow the bag of these cookies made their way back home with me. Oopsie! And they kept falling into my mouth all day yesterday. Sneaky little sweet treats.
Other goodies from Cookie Baking Day 2010:
Almond Macaroons
Buttery Pecan Rounds
Crunchy Muncher Cookies
Striped Icebox Cookies
Chunky Peanut, Chocolate, and Cinnamon Cookies
Chewy Chocolate Gingerbread Cookies
Cream Cheese Spritz Cookies
Apricot Sour Cream Tea Cookies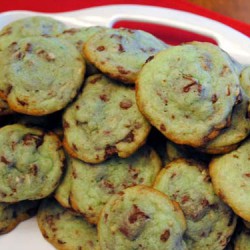 Mint Chocolate Chip Cookies
Ingredients:
1 pouch (1 lb 1.5 oz) sugar cookie mix
1/2 cup butter or margarine, softened
1/4 to 1/2 tsp. mint extract
6 to 8 drops green food color
1 egg
1 cup creme de menthe baking chips
1 cup semisweet chocolate chunks
Directions:
1. Heat oven to 350°F. In large bowl, stir cookie mix, butter, extract, food color and egg until soft dough forms. Stir in creme de menthe baking chips and chocolate chunks.
2. Using small cookie scoop or teaspoon, drop dough 2 inches apart on ungreased cookie sheet.
3. Bake 8 to 10 minutes or until set. Cool 3 minutes; remove from cookie sheet to wire rack. Serve warm or cool completely. Store tightly covered at room temperature.