This Chocolate Sheet Cake is seriously one of the best desserts to come out of my oven. Yeah, it sounds basic. Chocolate cake, chocolate frosting with pecans, big whoop. But it knocked my socks off! I can't explain it. Maybe because it's full of chocolate, maybe because it's a thin cake so there's almost an even cake to frosting ratio, maybe because it's full of crunchy pecans. Maybe I shouldn't question it and should just grab another piece!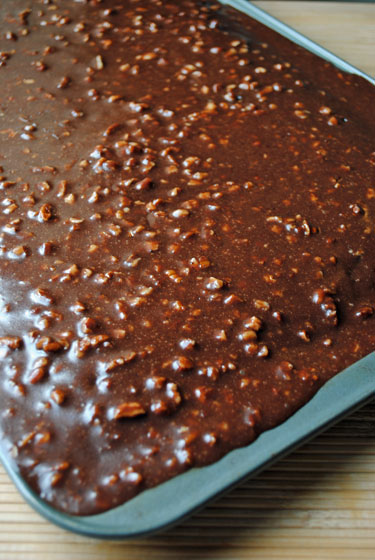 So, how's it taste?
It's pretty amazing. I thought "Ok, I'll make this chocolate sheet cake" and didn't expect anything different than well, cake. But oh it's so much more! From that first warm bite, I kept saying "Oh my, oh my, oh my that's good!" It's a chocolate lover's dream. The cake is super moist, even being thin. It's baked in a large 18×13 sheet cake pan, so it's not going to be the slice of cake you're used to. It's thin and that means more frosting per cake! I'm usually the type that prefers the cake over the frosting, but this stuff is unique. It's not thick like buttercream, but thin like a chocolate sauce studded with pecans. It gets a little tricky pouring it over the top of the cake, but it "slows down" and starts to thicken so that it doesn't spill over your pan. My cake didn't bake perfectly even, so the frosting pooled a little in a few spots. That's ok though, it just means more frosting for those particular pieces!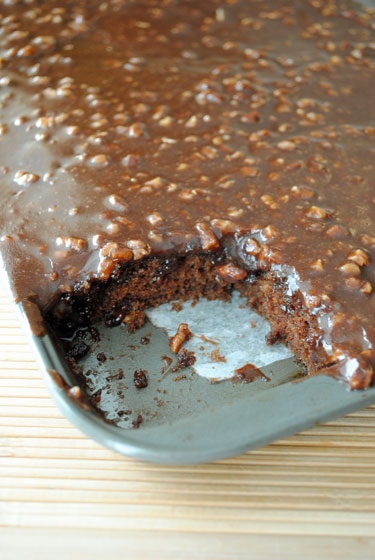 It's a lot of steps to make and I felt like I dirtied a million dishes, but it's totally worth it. I made this for friends and then took leftovers to my mom's work where it received rave reviews. I'm already thinking about baking it again to take to work. Any excuse to have just one more slice of this chocolate heaven!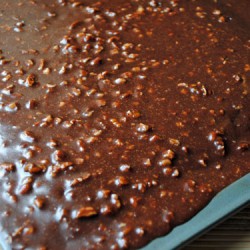 Chocolate Sheet Cake
Ingredients:
Cake
2 cups flour
2 cups sugar
1/4 tsp. salt
4 tbsp. (heaping) cocoa
1 cup (2 sticks) butter
1 cup boiling water
1/2 cup buttermilk
2 whole beaten eggs
1 tsp. baking soda
1 tsp. vanilla
Frosting
1/2 cup finely chopped pecans
3/4 cup plus 2 tbsp. (1-3/4 stick) butter
4 tbsp. (heaping) cocoa
6 tbsp. milk
1 tsp. vanilla
1 lb. (minus 1/2 cup) powdered sugar
Directions:
1. In a mixing bowl, combine flour, sugar, and salt.
2. In a saucepan, melt butter. Add cocoa. Stir together. Add boiling water, allow mixture to boil for 30 seconds, then turn off heat. Pour over flour mixture, and stir lightly to cool.
3. In a measuring cup, pour the buttermilk and add beaten eggs, baking soda, and vanilla. Stir buttermilk mixture into butter/chocolate mixture. Pour into 18x13 sheet cake pan and bake at 350F degrees for 20 minutes.
4. While cake is baking, make the icing. Chop pecans finely. Melt butter in a saucepan. Add cocoa, stir to combine, then turn off heat. Add the milk, vanilla, and powdered sugar. Stir together. Add the pecans, stir together, and pour over warm cake. Cut into squares.