I remember being so excited when I put these Peanut Butter-Honey Brownies on my office birthday treat list. I couldn't wait for someone to choose them. Brownies are so good by themselves, but when you put goodies on top, even better! I've had brownies topped with peanut butter before, but never a peanut butter and honey mix. Top that off with more chocolate and boom! What a decadent dessert made easy!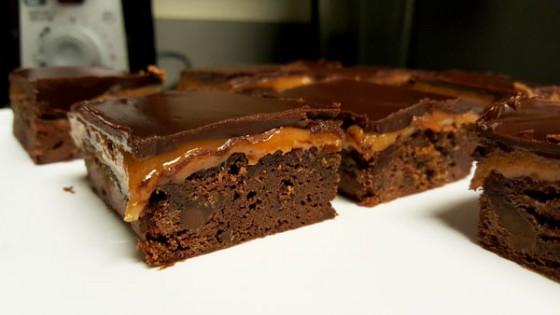 So, how's it taste?
Exactly like I hoped they would! The peanut butter-honey was perfect. The honey thinned out the peanut butter so it wasn't too gloppy on top. I loved the added touch of honey flavor with the slight saltiness of the peanut butter. What makes these even more special is that the brownies are baked with a peanut butter-honey swirl. If you're a PB and chocolate fan, you're going to love these!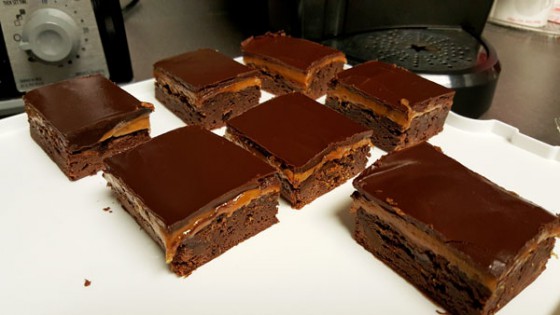 I made the recipe according to the original directions, but I think for the future I'd make the brownies according to the box directions (and I've changed my directions below to reflect that). For one, it's hard to find 15.5-ounce boxes of brownie mix these days. They were all 18 ounces and over. The recipe called for melted butter instead of vegetable oil and they weren't as moist as they should've been. I also added more water to mine to compensate for the larger amount of mix. It would've been much better to just follow the directions on the box!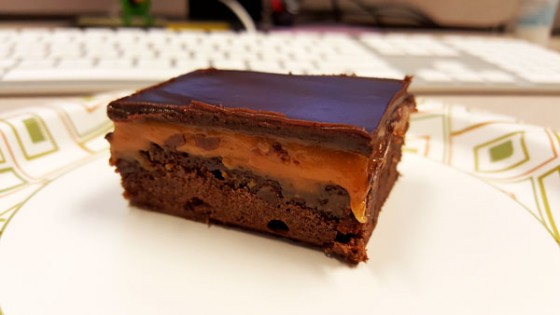 Everything else went as planned and it was so easy to make. The entire pan of brownies slid right out of the pan so I could easily cut them. I cut mine into 4 rows by 5, making 20 brownies instead of 16. They're a bit on the rich side, so you could cut them even smaller to feed a crowd. Definitely bookmarking this recipe to make again and again.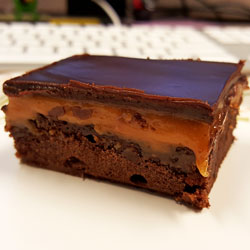 Yield: 20 servings
Prep Time: 15 min
Total Time: 2 hr 20 min
Peanut Butter-Honey Brownies
Ingredients:
3/4 cup creamy peanut butter
1/2 cup honey
1 box brownie mix (preferably without nuts)
ingredients to make brownie mix from box (water, oil, eggs)
3/4 cup semisweet chocolate chips
3 tbsp. butter, softened
Directions:
1. Heat oven to appropriate temperature according to brownie box directions. Grease 8 or 9-inch square pan. In small bowl, combine peanut butter and honey; blend until smooth. Set aside.
2. Prepare brownie mix according to box directions. Spread brownie mix into prepared pan. Using 1/4 cup of the peanut butter mixture, dollop on top of brownie batter. Using a knife, swirl peanut butter mix into brownie batter.
3. Bake according to brownie box directions or until edges pull away from sides of pan. Cool 45 minutes.
4. Spread remaining peanut butter mixture over brownies. Place in fridge while you prepare chocolate layer.
5. In small saucepan, combine chocolate chips and 3 tablespoons butter; cook over low heat until melted and smooth, stirring constantly. Spoon and spread chocolate mixture over peanut butter mixture on brownies. Cool 45 minutes or refrigerate until set. Cut into bars. Store covered at room temperature.