I finally baked a King Cake! I've wanted to try my hand at making this delicious Mardi Gras treat for years and finally did it. Although I clearly need to work on my dough-shaping skills, the final result was everything I hoped it would be. Tender, cake-like bread, a touch of cinnamon, and creamy glaze sparkling with colored sugar. I forgot to take my nice camera to my mom's this past weekend, so forgive me for the craptastic pictures. This recipe was too good not to share!
So, how's it taste?
Honestly it tastes like a cinnamon roll with a delicate lemon glaze on top. It tastes like the world's sweetest breakfast! I'm sure I've had King Cake before, but it's been a few years, so I can't really report on how this compares to the real deal. I used bread flour, as recommended, and it made the lightest bread. The sour cream in the mix gave a really nice flavor, but don't think tangy. It's not tangy at all. I do think the butter/cinnamon sugar mix on the inside could've been cranked up a bit, but I may be trying to make it a cinnamon roll. There's a non-traditional variation with cream cheese on the inside and I can't wait to try that! The glaze is silky and makes the dessert sweet. The bread is slightly sweet, so it needs the glaze to finish it. The lemon juice used to make the glaze is detectable, but it's not sour at all. It's a light, delicate, lemon flavor. If that's not your thing, leave it out and sub water instead. You'll still get a lovely vanilla glaze. Instead of hiding a baby, I hid a pecan in each cake after I sliced it. You could also bake a pecan inside, too.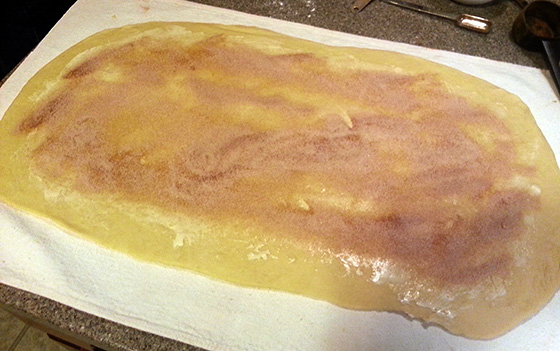 I rolled out the dough into more of an oval, which is why my King Cake was wider on one side.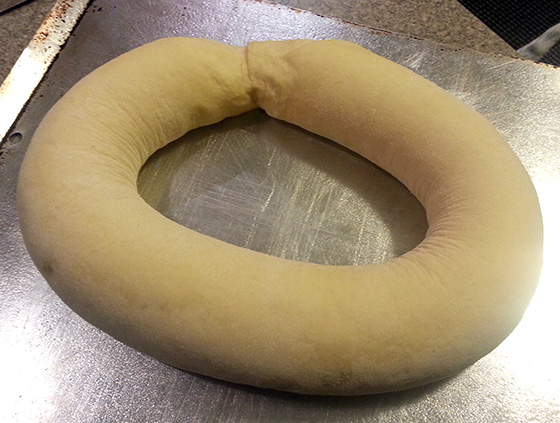 That slight oval shape of my dough really makes a difference when you roll it up! I also needed to roll it a little tighter. Still tasted awesome though!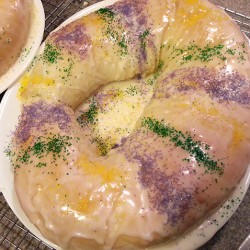 Yield: makes 2 cakes, about 18 servings each
Prep Time: 30 min
Cook Time: 10 min
Total Time: 2 hr 30 min
King Cake
Ingredients:
Cake
1 (16 oz.) container sour cream
1/3 cup sugar
1/4 cup butter
1 tsp. salt
2 (1/4-ounce) envelopes active dry yeast
1/2 cup warm water (100° to 110°)
1 tbsp. sugar
2 large eggs, lightly beaten
6 to 6 1/2 cups bread flour*
1/3 cup butter, softened
1/2 cup sugar
1 1/2 tsp.ground cinnamon
Glaze
3 cups powdered sugar
3 tbsp. butter, melted
2 tbsp. fresh lemon juice
1/4 tsp. vanilla extract
2 to 4 tbsp. milk
purple, green, gold sugar sprinkles
*This recipe uses bread flour, which makes for a light, airy cake. You still get tasty results with all-purpose flour, but the cake will just be more dense.
Directions:
1. Cook first 4 ingredients in a medium saucepan over low heat, stirring often, until butter melts. Set aside, and cool mixture to 100° to 110°.
2. Stir together yeast, 1/2 cup warm water, and 1 tablespoon sugar in a 2-cup glass measuring cup or medium bowl; let stand 5 minutes.
3. Beat sour cream mixture, yeast mixture, eggs, and 2 cups flour at medium speed with a heavy-duty electric stand mixer until smooth. Reduce speed to low, and gradually add enough remaining flour (4 to 4 1/2 cups) until a soft dough forms. (I used the paddle attachment and switched to the dough hook before I added the last cup of flour.)
4. Turn dough out onto a lightly floured surface; knead until smooth and elastic (about 10 minutes). Place in a well-greased bowl, turning to grease top.
5. Cover and let rise in a warm place (85°), free from drafts, 1 hour or until dough is doubled in bulk.
6. Punch down dough, and divide in half. Roll each portion into a 22- x 12-inch rectangle. Spread 1/3 cup softened butter evenly on each rectangle, leaving a 1-inch border. Stir together 1/2 cup sugar and cinnamon, and sprinkle evenly over butter on each rectangle.
7. Roll up each dough rectangle, jelly-roll fashion, starting at 1 long side. Place one dough roll, seam side down, on a lightly greased baking sheet. Bring ends of roll together to form an oval ring, moistening and pinching edges together to seal. Repeat with second dough roll.
8. Cover and let rise in a warm place (85°), free from drafts, 20 to 30 minutes or until doubled in bulk.
9. Bake at 375° for 14 to 16 minutes or until golden. Slightly cool cakes on pans on wire racks (about 10 minutes).
10. For the glaze, stir together first 4 ingredients. Stir in 2 tablespoons milk, adding additional milk, 1 teaspoon at a time, until spreading consistency.
11. Drizzle glaze evenly over warm cakes; sprinkle with colored sugars, alternating colors and forming bands. Let cool completely.