About this time every year, my mom and I get together for an all day cookie baking extravaganza. I research and plan out the new cookies and every now and then we'll repeat a family favorite or two. This year I was overly ambitious and planned NINE varieties. I must be insane. Thank goodness I also plan a few boozey accompaniments to assist us through those last few batches, lol.
My mom's kitchen quickly turns into cookie baking central. It takes a lot of butter…and one box of cream cheese!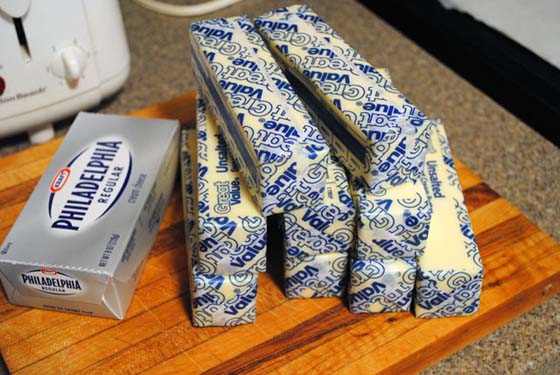 Oh if these cookie sheets could talk. They are older than me. I would love to know how many cookies have been baked on them so far. I'm sure it's in the billions.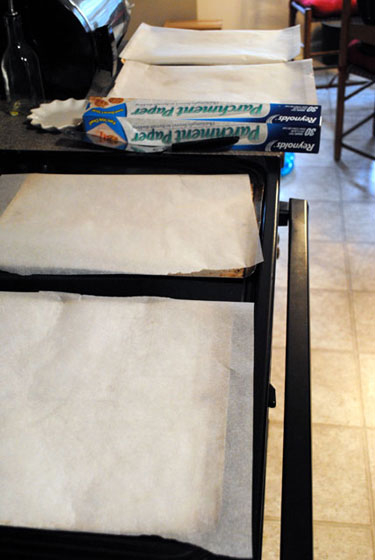 Lots of counter space is a must. It's going to get messy!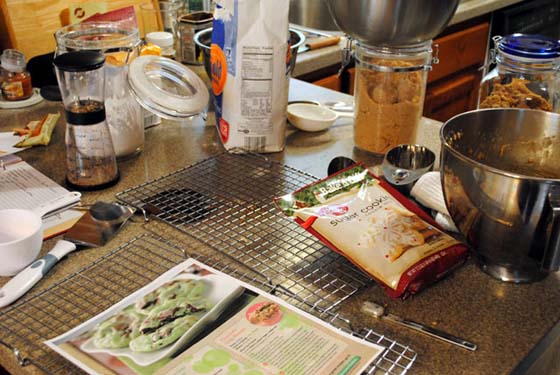 And it also spills over onto the table. Cookie baking day is not for the faint of heart.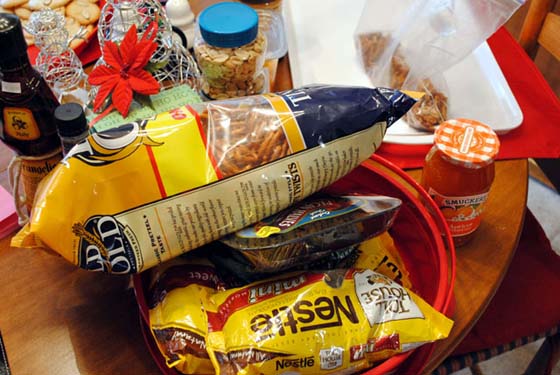 So set your iPods to some Christmas carols and enjoy the next nine days of our 2010 cookie baking day! First up, Almond Macaroons!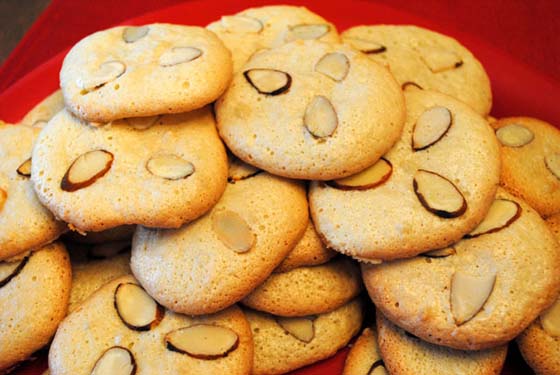 So, how's it taste?
The batter for these cookies is quite strange. There's no flour and it's very runny. I wasn't sure they were going to be worth sharing with others, but I was wrong. If you're an almond lover, you will really enjoy these. The cookies turn out to be thin, delicate, chewy, and full of almond flavor. The slices of almond on the top add a nice crunch and I like cookies that let folks know what's inside.
Other goodies from Cookie Baking Day 2010:
Buttery Pecan Rounds
Crunchy Muncher Cookies
Striped Icebox Cookies
Mint Chocolate Chip Cookies
Chunky Peanut, Chocolate, and Cinnamon Cookies
Chewy Chocolate Gingerbread Cookies
Cream Cheese Spritz Cookies
Apricot Sour Cream Tea Cookies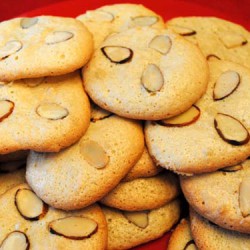 Almond Macaroons
Ingredients:
4 ounces almond paste (about 5 1/2 tablespoons)
1/2 cup confectioners' sugar, plus more for dusting
Pinch of coarse salt
1 large egg white
1/4 teaspoon pure vanilla extract
1/4 cup sliced almonds
Directions:
1. Preheat oven to 300 degrees. Put almond paste, sugar, and salt in the bowl of an electric mixer fitted with the paddle attachment. Mix on medium speed until crumbly, about 3 minutes. Add egg white and vanilla. Mix until smooth and thickened, about 3 minutes.
2. Drop batter by tablespoons onto a baking sheet lined with parchment paper, spacing 2 inches apart. Place 2 almond slices on each mound of dough. Bake until cookies are golden brown, 20 to 25 minutes. Let cool completely on a wire rack. Just before serving, lightly dust cookies with sugar. Cookies can be stored between layers of parchment in airtight containers at room temperature up to 3 days.