Several months ago, I tried to make deep dish cookies. It was a disaster. So bad that I scraped the cookies into a 9×13 dish, topped them with a bunch of other stuff, and turned them into bars so they'd at least be edible. They've always been in the back of my mind to try again. Someone posted a bag of Caramel Apple Milky Way bars and I knew it was time. Yes, Caramel Apple Milky Way candy bars! They sound odd, but they are so good. They are amazing in these Deep Dish Caramel Apple Milky Way Cookies!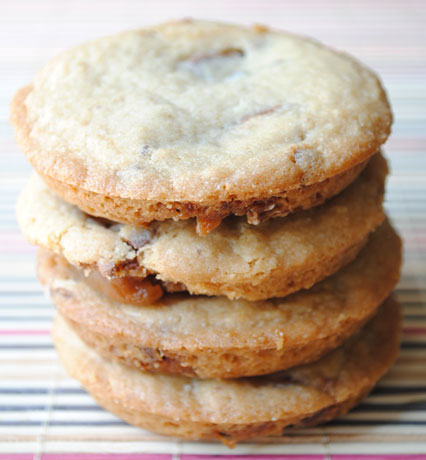 So, how's it taste?
So stinkin' good! I'm usually not a big fan of fake apple flavor so I was apprehensive. Somehow the apple flavor in the Milky Ways tastes like fresh apples. It really does taste like you're biting into a caramel apple…with chocolate. The nougat inside is lighter in color than a regular Milky Way, but other than that, they look the same. I found a bag of the minis in the Halloween candy section at Wal-Mart and knew I had to bake them into deep dish cookies.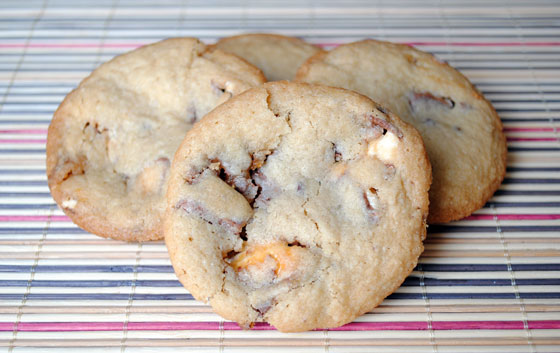 The cookie batter surrounding the chunks of Milky Way and chocolate chips is awesome. It's going to be my go-to cookie base from now on. For the amount of salt, you'll see I put a range. The full amount ( 1 1/2 teaspoon) tastes excellent in the cookie, but you can distinctly taste it. I liked it, but you may prefer to reduce the amount. It's also very important to cut the parchment circles to fit your deep dish wells. I skipped this step and although the cookies came out in one piece, they were very difficult and fragile. It's almost a science as to how much batter to put in the well. An exact tablespoon isn't enough, but a heaping tablespoon should do it. You want to make sure the cookies don't spill over the wells when baking. (Which was my problem way back when I first tried making them.)
If you can't find Caramel Apple Milky Way bars, then pretty much any candy bar will do. I have all kind of dreams to bake these again and again until I've tried it with every candy bar I can think of…really.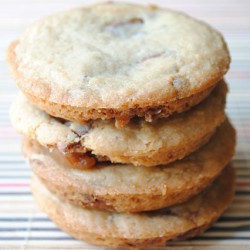 Deep Dish Caramel Apple Milky Way Cookies
Ingredients:
1 cup butter, room temperature
1 cup dark brown sugar
1/2 cup granulated sugar
2 eggs
2 tsp. vanilla
1 tsp. baking soda
1 to 1 1/2 tsp. coarse sea salt (I used 1 1/2 & you can taste the salt. It's good, but you may prefer less.)
2 1/2 cups all purpose flour
1/4 cup mini semisweet chocolate chips
1 bag (11.50 oz.) Caramel Apple Milky Way mini bars, chopped in half
Directions:
1. Preheat oven to 350F.
2. Prepare a deep dish muffin pan by spraying with cooking spray, then lining each well with a parchment round. (Cut the parchment rounds to fit in the bottom of each well.) Spraying the parchment again lightly with cooking spray. Set aside.
3. Cream butter and sugars together in mixer. With mixer on low, add eggs and vanilla. Turn speed to medium for approximately 20 seconds until batter is combined.
4. With mixer on low, add flour, baking soda, sea salt, and chocolate chips. When just mixed together fold in the chopped Milky Way bars.
5. Press a heaping tablespoon of batter into each deep dish well and bake for 13-15 minutes until the edges are golden and the center is just set.
6. Remove from oven and let cool in pan for 5 minutes. Loosen edges with a knife and flip the cookies onto a wire cooling rack.