Happy Pi Day! Yep, today's 3/14 and what better way to celebrate than with pie! (Like I need an excuse to make a pie, but I'll use it.) I decided to make Coconut Dream Pie for the occasion. It wasn't my first choice, but I wanted something easy to whip together and I also wanted something that wouldn't be too over-the-top and blow my calories for the day. I'm working from home today, so me + alone with pie = very dangerous. Plus this pie has a unique crust and my curiosity just had to find out how it worked.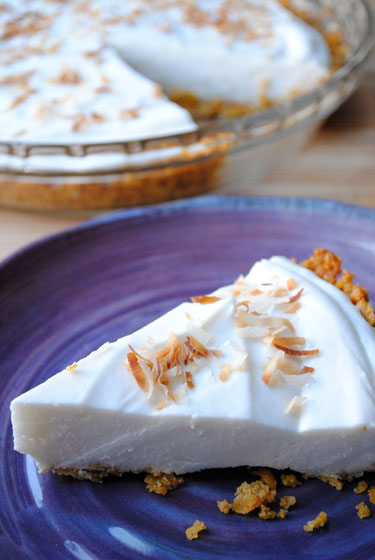 So, how's it taste?
It didn't blow me away and won't be taking the place of a real coconut cream pie anytime soon, but it was pretty good. I loved the crust. It's a corn flake crust with a bit of honey and sugar. The crust is fantastic. Slightly sweet and crunchy. It's super crumbly and hard to get out of the pie plate though. I cut the first piece straight from the refrigerator, so I'm wondering if letting it warm up a bit will help the crust come loose from the plate better. I had to really scrape to get it all out.
The filling is tasty, but it took me a few bites to like it. It's really thick. Between the 1/4 cup of cornstarch and gelatin, I wasn't surprised. It needs to be thick, but it's almost too much so. After a few bites, I enjoyed it more. It's not as coconut-y as I'd like, but the flavor goes well with the corn flake crust. It has a rich, heavy aftertaste that I don't care for. You know how when you eat something fatty, there's a slight film in your mouth? That's what this feels like after you eat it. I think it's from the coconut milk. It's 180 calories per slice, but I didn't pay attention to the recipe being 12 servings. That's a really small slice. My pie slices are more around the 8-servings size, which bumps up the calories for this pie to 270 each. For 270, I feel like I should've picked a tastier pie. It wasn't a terrible pie, but I wouldn't make it again.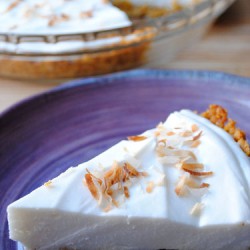 Coconut Dream Pie
Ingredients:
1 1/2 cups corn flake crumbs
5 tbsp. butter, melted
1 tbsp. honey
1/4 cup sugar
1/4 cup cornstarch
1 envelope unflavored gelatin
1 can (about 11.8 oz.) sweetened coconut milk (roughly 1 1/2 cups)
1 tsp. coconut extract
8 oz. frozen light nondairy whipped topping, thawed
3 tbsp. sweetened flaked coconut, toasted
Directions:
1. Heat oven to 425F.
2. Stir corn flake crumbs, butter, honey, and 1 tablespoon of the sugar in a medium bowl. Press crumb mixture evenly on bottom and up sides of a 10-inch round pie plate.
3. Bake crust for 10 to 11 minutes or until slightly golden around edges. Remove pie plate to wire rack; let cool completely.
4. Meanwhile, stir together remaining 3 tablespoons of sugar, cornstarch, and gelatin in a medium saucepan. Stir in coconut milk. Cook over medium heat, whisking constantly, until thickened and bubbly, about 8 minutes. Stir in extract. Let cool to room temperature, about 15 minutes.
5. Once cooled, fold in whipped topping. Spread filling evenly in baked crust. Garnish with toasted coconut. Refrigerate 2 hours until set.