I've been teasing you for a little over two weeks now about a decadent sundae. The wait is over! I took my Toasted Coconut Ice Cream and swirled it with my Pineapple Sorbet to create this incredible Grilled Pineapple Sundae. I discovered this sundae several years ago and fell in love. It's really easy to put together, but such an impressive dessert for company.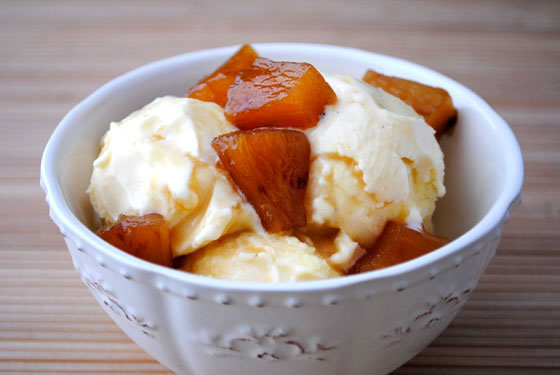 So, how's it taste?
This dessert is perfect for warm weather. The tropical taste can hold its own against anything chocolate and reminds me of a pina colada. The sauce is vibrant with pineapple and lime and just a touch of sweet from the brown sugar. Pour the hot sauce over your ice cream and it starts to melt. It creates this hot and cold, sweet and tangy, creamy, rich mouthful of dessert. An indulgent ending to any meal. If you don't feel like making your own ice cream, I highly suggest the pineapple coconut ice cream from Haagen-Dazs. If you can't find that, vanilla works very well.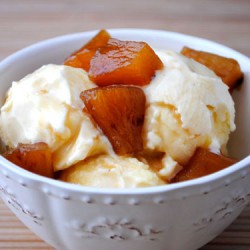 Grilled Pineapple Sundae
Ingredients:
1/2 cup packed light brown sugar
2 tbsp. dark rum
2 tbsp. water
2 tbsp. fresh lime juice
1 tbsp. canola oil
1/2 pineapple, peeled, cored, cut into 1/2-inch thick slices
4 scoops Toasted Coconut Ice Cream or vanilla*
*Note: If you don't want to make coconut ice cream, Haagen-Dazs makes a pineapple coconut that works perfect for this sundae.
Directions:
1. In a small saucepan, combine the brown sugar, rum, and water. Bring to a simmer over medium heat and cook until the mixture thickens slightly, 3 to 5 minutes. Remove the saucepan from the heat and stir in 1 tablespoon of the lime juice. Keep the sauce warm.
2. In a bowl, combine the oil and remaining 1 tablespoon of lime juice. Add the pineapple slices and toss them to coat.
3. Preheat a two-sided electric indoor grill or ridged grill pan according to the manufacturer's instructions.
4. If you are using the two-sided grill, arrange the pineapple slices in a single layer on the grill and close the cover. Cook until the pineapple is seared on all sides, about 4 minutes.
5. If you are using the grill pan, arrange the pineapple slices in a single layer. Cook until the pineapple is seared on all sides about 8 minutes, turning once midway through the cooking time.
6. Transfer the pineapple slices to a cutting board and cut them into chunks. Transfer the chunks to the saucepan with the reserved sauce and stir them to coat.
7. Serve the warm pineapple chunks over scoops of Toasted Coconut Ice Cream.