There's a good chance these Irish Meringues have nothing to do with Ireland. I first ate them back in middle school and my mom thinks I made them in home economics, but I vaguely remember making them for a history class. So who knows where this recipe comes from. All I know is that they are deliciously addicting and it took me way too long to make them again. The recipe has since disappeared from my mom's collection, but thanks to the interwebs, I found it! Of course only after searching for meringues and dropping the Irish part. But I remember them as Irish something or other, so Irish Meringues they shall be called in my house.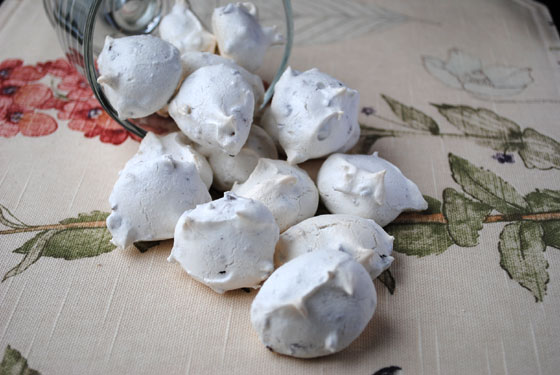 So, how's it taste?
I'm not kidding when I say they are addicting. I'm not a huge fan of just plain meringue cookies, but throw in chocolate chips and pecans and it's a whole new ballgame. The meringue becomes really crunchy and these little cookies seem like pillows of air with tiny bursts of chocolate and nuts. That's where you run into trouble. They seem so light that you just pop, pop, pop them in your mouth and boom you've eaten half a batch in no time! The meringues are just the right amount of sweet and a tiny hint of salt from the pecans. They are also very easy to make and if you've got a ton of egg whites leftover, say from making all that ice cream, this recipe is a great way to use them up. You could also get fancy and pipe the meringue onto the cookie sheet before baking.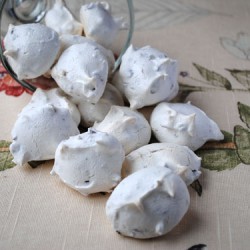 Irish Meringues
Ingredients:
2 egg whites
1/8 tsp. cream of tartar
1/8 tsp. salt
1 tsp. vanilla
3/4 cup superfine sugar
1/2 cup mini chocolate chips
1/4 cup chopped pecans, optional
Directions:
1. Preheat oven 300 degrees.
2. Beat egg whites, cream of tartar, and salt together until soft peaks form. Add vanilla, then add sugar gradually, beating until stiff.
3. Fold in chocolate chips and pecans. Drop by teaspoon-fulls 2 inches apart on parchment-covered cookie sheet. Bake until dry, about 25 minutes.
4. Let cool slightly before removing from cookie sheet. Set on rack to cool before storing in airtight container. Freezes well.