Remember the Nilla Wafer dessert from last week and how I mentioned it came to be because of a dessert that didn't? Well, this Banana Pudding Poke Cake is the dessert that I was writing about. For the holiday weekend (Happy Memorial Day!), I wanted to make a dessert to bring to my mom and her coworkers. Perfect excuse for me to make this cake. I love poke cakes. I've made strawberry and key lime, so now it was time to try banana pudding.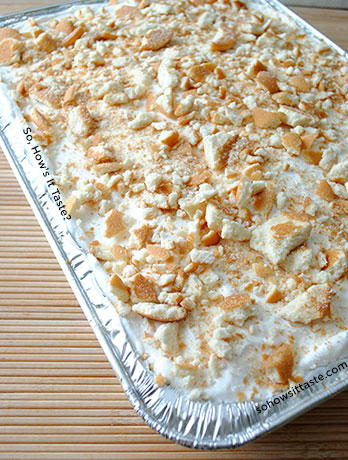 So, how's it taste?
You know just the other day I was tweeting about how much I hate fake banana flavoring. I think it's disgusting. Banana popsicles? Gross. Banana taffy. No thank you. (insert noise of a record scratching) Why in the world would I make a cake using that fake banana flavored pudding? I wanted to keep it true to the recipe, but I kid you not I had an internal battle that I should've used vanilla pudding right up until I poured it over the cake. After tasting the banana pudding on its own, I was certain I'd hate this cake and wish I had used vanilla and freshly sliced bananas instead.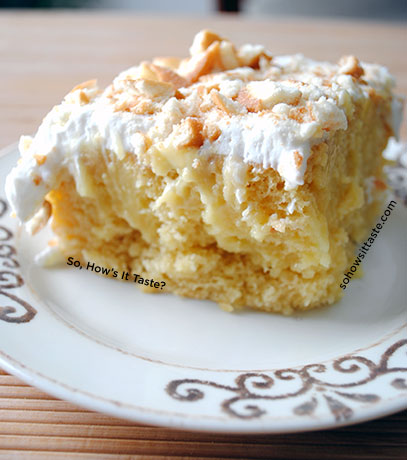 Well, I was wrong. Really, really wrong. I'm eating my words, er tweets. I loved this cake! I think you just can't go wrong with a poke cake no matter the flavor. The combination of the moist yellow cake, tunnels of pudding, sweet whipped topping, and crunchy Nilla Wafers was delicious. The other ingredients mellow out the banana flavoring, so it's not as prominent. It really does taste like banana pudding in cake form. I loved how the wafers on top added a nice crunch and of course, they get softer (if your cake lasts that long). I dropped this cake off at my mom's work and she enjoyed it (and she claims she hates bananas). A few hours later, she sent me a picture of the cake all but gone! I'd say it was a success…even with fake bananas. 😉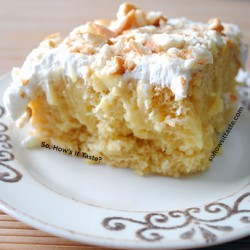 Banana Pudding Poke Cake
Ingredients:
1 box yellow cake mix (I use Duncan Hines)
ingredients to make cake (eggs, water, oil)
2 (3.4 oz.) packages instant banana cream pudding mix
4 cups milk (I used nonfat)
1 (8 oz.) tub whipped topping, thawed
24 Nilla Wafers, crushed (I used reduced fat)
Directions:
1. Preheat oven to 350F. Prepare cake according to package directions for a 9x13 cake. Bake until a toothpick inserted in the center comes out clean.
2. Cool on wire rack. When completely cooled, use a wooden spoon handle and poke holes in the cake all the way through to the bottom. If a lot of cake comes out on the handle, wipe with a paper towel and continue poking the holes. You want the holes all over the cake.
3. Mix the two packages of pudding mix with the milk in a large bowl. Whisk until combined and there are no lumps. Pour over the cake, making sure to fill the holes. It's ok if the pudding goes over the side.
4. Place cake in refrigerator and let pudding set. Once cake is cooled and pudding is set, spread whipped topping evenly over the top. Sprinkle with crushed Nilla Wafers. Serve immediately or store in refrigerator.