At first, I didn't have this recipe bookmarked in my ice cream book. It sounded fine, but didn't jump out at me as a must make. But for the 4th, I wanted to make Oatmeal Ice Cream Sandwich Cookies and needed a fabulous ice cream for the center, beyond your basic vanilla or chocolate. I thought this Date, Rum, and Pecan Ice Cream would pair perfectly and I was right! It's almost like an oatmeal raisin cookie with nuts and booze!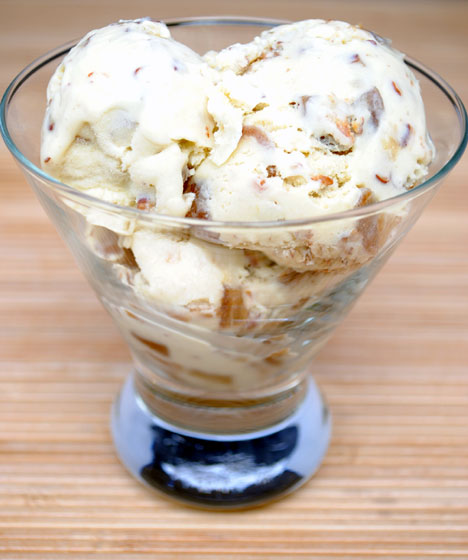 So, how's it taste?
Although it wasn't my favorite ice cream in the world, it was very good. I was nervous the dates would be way too potent after soaking in rum for so long, but the sweet of the ice cream made that a non issue. There's also rum in the cream mixture, so everything paired together beautifully. Chewy, sweet dates and crunchy pecans surrounded by a rum custard. Not too shabby sandwiched between oatmeal cookies! Fair warning, this ice cream is super sweet and very rich. I think that's why it went so great with the oatmeal cookies because they were barely sweet. A scoop or two of this ice cream will send your sweet tooth into overdrive!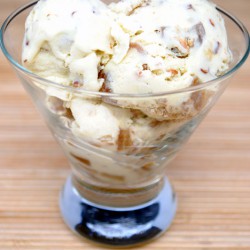 Date, Rum, and Pecan Ice Cream
Ingredients:
Dates
12 dates, pitted
1/4 cup dark rum
Ice Cream
1 cup whole milk
2/3 cup sugar
Big pinch of salt
1 1/4 cups heavy cream
6 large egg yolks
1/2 tsp. vanilla extract
2 tbsp. dark rum
1 cup pecans, toasted* and coarsely chopped
Directions:
1. Chop the dates into 1/2-inch pieces and combine with the rum in a small saucepan. Bring to a boil, then remove from the heat and stir. Cover and let sit at room temperature for at least 4 hours or up to a day ahead.
2. For the ice cream, warm the milk, sugar, and salt in a medium saucepan. Pour the cream into a large bowl and set a strainer on top.
3. In a separate bowl, whisk the egg yolks. Slowly pour the warm milk mixture into the eggs, whisking constantly, then pour the egg mixture back into the saucepan.
4. Stir the mixture constantly over medium heat with a heatproof spatula until the mixture thickens and coats the spatula. Pour the custard through the strainer and stir into the cream. Mix in the vanilla and rum, cool the mixture over an ice bath.
5. Chill the mixture completely in a refrigerator, then freeze in your ice cream maker according to the manufacturer's instructions. During the last few minutes of churning, add the pecans and dates.
*To toast the pecans: Preheat oven to 350F. Spread the pecans in an even layer on a baking sheet. Bake in the oven for 10 minutes, stirring once or twice during baking. Let the nuts cool completely before using.