I knew the second I saw Chocolate Malt Cookies that they would make the cookie baking day list. My mom is a huge fan of Whoppers (see Whoppers Cupcakes), so I thought she'd really enjoy them. Four kinds of chocolate are in this cookie. That's right four!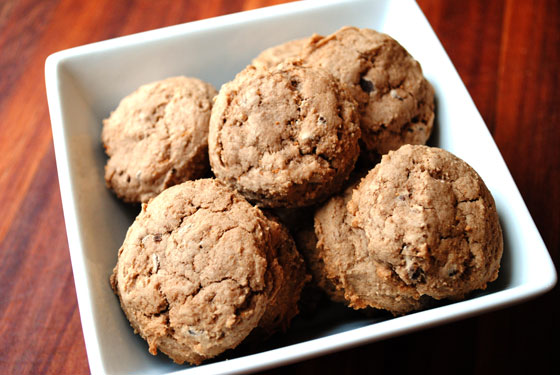 So, how's it taste?
It's chocolatey-good, as you would expect from all that chocolate! I used chocolate malt powder, so the taste of malt was a little more subtle than I would have liked. The cookies aren't rich, even with all that chocolate, and they are slightly crisp on the outside and stay chewy on the inside. I found these cookies on The Novice Chef blog and her recipe is adapted from the original. I'll give her version a try next time I make these. She uses more malted milk powder and more syrup and reduces the flour. While I enjoyed the original version, the dough was a bit on the stiff side and I think they'd have a better texture with less flour. They were still fantastic cookies that need to be baked again…and soon!
Other goodies from Cookie Baking Day 2011:
Cream Cheese Spritz Cookies
Orange Pecan Gems
Iced Lemon Pistachio Cookies
Cranberry White Chip Oatmeal Cookies
Triple Chocolate Oreo Chunk Cookies
Banana Walnut Chocolate Chunk Cookies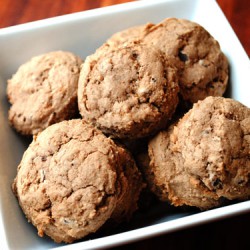 Chocolate Malt Cookies
Cooking Light, May 2005
makes 2 1/2 dozen
per cookie: 125 calories, 3.9g fat, 1.9g protein, 20.8g carbs, 0.5g fiber
Ingredients:
1 cup packed brown sugar
6 tbsp. malted milk powder
5 tbsp. butter, softened
3 tbsp. chocolate syrup
1 tbsp. vanilla extract
1 large egg
2 cups all-purpose flour
1 tsp. baking soda
1/2 tsp. salt
1/2 cup milk chocolate chips
1/3 cup semisweet chocolate minichips
Directions:
1. Combine the brown sugar, malted milk powder, butter, chocolate syrup, vanilla extract, and egg in a large bowl; beat with a mixer on medium speed for 2 minutes or until light and fluffy. Combine flour, baking soda, and salt in a medium bowl; stir with a whisk. Gradually add flour mixture to sugar mixture, beating at low speed until well blended. Stir in the milk chocolate chips and semisweet chocolate minichips.
2. Drop dough by heaping teaspoonfuls 2 inches apart onto baking sheets. Bake at 350° for 10 minutes. Cool on pans 2 minutes or until firm. Remove cookies from pans; cool on wire racks.