You may think from the title that I made some sort of super creamy version of ice cream that mimics a mug of hot chocolate. Wrong! I made hot chocolate, as in cayenne pepper hot chocolate. This Hot Chocolate Ice Cream reminds me of those Mexican Brownies from about a year ago, where I paired chocolate with cinnamon and cayenne. I've been in love with the combination ever since.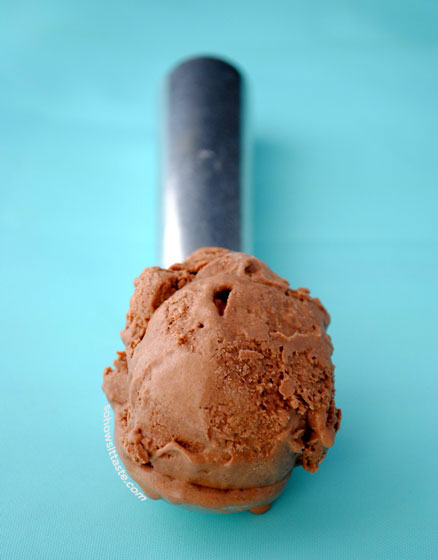 So, how's it taste?
I was surprised at how creamy this ice cream turned out since it contains no eggs. And it's packing a serious chocolate punch, but it's also packing some serious heat! I'd consider myself about a medium-grade heat lover. I'm slowly learning to enjoy more and more heat in my foods. I added the cayenne pepper to the hot mixture a little at a time until at 3/4 teaspoon, I thought I had the right level. I clearly forgot how the flavors would continue to develop as the ice cream chilled and then became actual ice cream. I added about 1/4 teaspoon too much! It doesn't by any means blow my mouth off and is still quite edible and delicious, but that aftertaste of heat will sneak up on you.
Now if you like your foods spicy spicy, you'd love it! If you're a lightweight on the heat, leave it out altogether or only add 1/4 teaspoon cayenne total. Any way you take your heat, you're going to enjoy this ice cream. The cinnamon is subtle in the background, but works to enhance the chocolate flavor. I still can't believe how velvety rich and creamy this ice cream is without eggs. If you end up adding too much cayenne like I did, simply turn your ice cream into a milkshake! The extra milk tones down the heat level and you won't have to resort to throwing out perfectly good ice cream.
Hot Chocolate Ice Cream
Ingredients:
2 1/4 cups heavy cream
6 tbsp. cocoa powder
3/4 cup sugar
3 oz. semisweet chocolate, chopped
1 1/4 cups whole milk
1 tsp. vanilla extract
pinch of salt
1 1/4 tsp. ground cinnamon
1/2 - 3/4 tsp. cayenne
2 tbsp. brandy
Directions:
1. In a large saucepan, whisk together the cream, cocoa, and sugar. Heat, whisking frequently, until it comes to a full, rolling boil. Remove from the heat and add the chocolate; whisk until completely melted. Stir in the milk, vanilla, salt, cinnamon, cayenne, and brandy. Pour the mixture into a blender and blend until very smooth, about 30 seconds.
2. Chill the mixture in the refrigerator. Freeze in your ice cream maker according to the manufacturer's instructions.