Making this Magnolia Bakery Banana Pudding is probably the most excited I've been so far about an office birthday. I was really hoping someone would pick this dessert from The List and it finally happened! I visited New York City back in January and my friend told me stopping at Magnolia Bakery and trying their banana pudding was a must. She wasn't wrong. I've had many dreams about that dessert ever since. This pudding is really easy to make, but it does take some planning ahead because the pudding needs to set before you can finish the recipe. Well worth the extra effort! I can't believe they made this recipe public. I'd have taken it to my grave!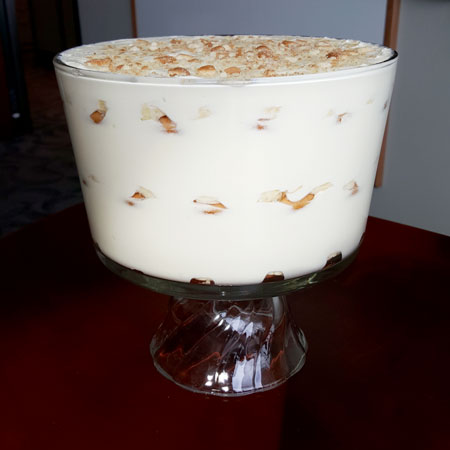 So, how's it taste?
This is what banana pudding dreams are made of. As a southerner, it's a shame that this is the first time I've ever made banana pudding. It's like our thang. I'm thinking it worked out ok because there's no way any other recipe compares to this one. It's so perfectly creamy with just the right amount of banana and vanilla wafers. I made the pudding one night, then the whipped cream the next night. Served it the next day and I think the day after that it tasted even better. Once those flavors start coming together…grab your spoon! Don't even bother getting a bowl because you'll definitely be back for more.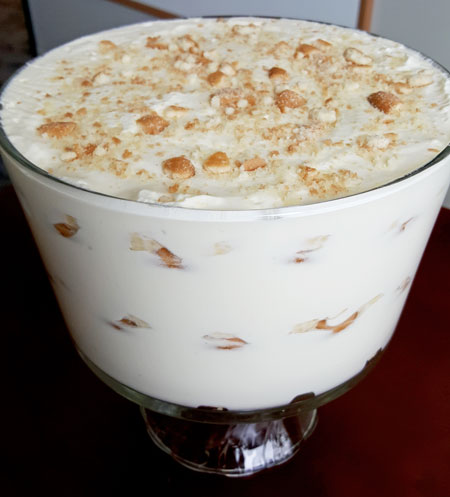 Please excuse the pics! I was so excited about bringing this to work that I completely forgot to take pictures with my fancy camera. #foodbloggerproblems amiright? 🙂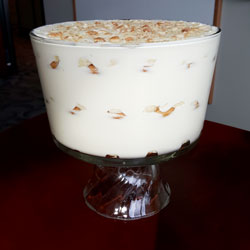 Magnolia Bakery Banana Pudding
Ingredients:
1 14 oz. can sweetened condensed milk
1 1/2 cups cold water
1 3.4 oz. package instant vanilla pudding mix (Jell-O brand)
3 cups heavy cream
1 12 oz. box vanilla wafer cookies (Nabisco Nilla Wafers or Publix brand), save about 5 wafers for garnish
4 cups sliced ripe bananas (about 3 medium bananas - I used 4)
Directions:
1. Using a stand mixer, mix together sweetened condensed milk and water until well combined, about 1 minute. Sprinkle pudding mix over the liquid and mix well until all the powder has dissolved, about 2 minutes. Cover and place in refrigerator until completely set, about 3-4 hours or overnight.
2. Using a stand mixer with a whisk attachment, whip heavy cream until stiff peaks form. Gently fold in pudding mixture until blended and no streaks remain.
3. In a trifle bowl (or whatever you're serving in), arrange 1/3 of the wafers on the bottom of the bowl, then 1/3 of the bananas, then 1/3 of the pudding mixture. Repeat three times in total, until you fill the serving dish. (My trifle bowl was small and I had pudding and wafers leftover. Just keep layering in another dish. It's delicious even without the bananas!)
6. Crush the 5 wafers with your hands and crumble over the top of the last layer of pudding. Cover tightly and place back in refrigerator for 4 hours (or overnight) to chill. Store in the refrigerator covered with plastic wrap.