From these melt in your mouth, lemony goodness treats! The burst of lemon is such a refreshing flavor and reminds me of Spring. Don't be fooled though, these White Chip Lemon Streusel Bars pack a punch of richness!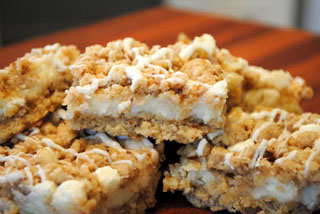 So, how's it taste?
The combination of white chocolate and lemon is incredible! Make sure you use fresh lemon juice when making these. It makes a huge difference. The streusel topping and crust have oats and pecans in the mix and they give such a perfect texture balance to the creamy lemon filling. I always think of lemon desserts as being light, but these bars are super rich. Although somehow I still manage to eat more than one! Call it a gift.
I've made these bars several times and while they are easy to make, lookout because you'll use a ton of bowls. There's lots of mixing and reserving this to add to that. But they are so worth it! I've used lime in place of the lemon as well, and they are just as fabulous. I highly recommend making these…and soon!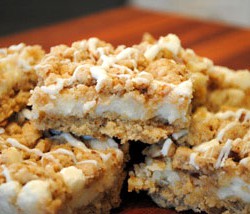 White Chip Lemon Streusel Bars
Ingredients:
1 can (14 oz.) sweetened condensed milk
1/2 cup lemon juice
1 tsp. freshly grated lemon peel
2 cups (12 oz.) white chips, divided
2/3 cup butter or margarine, softened
1 cup packed light brown sugar
1 1/2 cups all-purpose flour
1 1/2 cups regular rolled or quick-cooking oats
3/4 cup toasted pecan pieces*
1 tsp. baking powder
1/2 tsp. salt
1 egg
1/2 tsp. shortening
*To toast pecans: Heat oven to 350. Spread pecans in thin layer in shallow baking pan. Bake, stirring occasionally, 7 to 8 minutes or until golden brown. Cool.
Directions:
1. Heat oven to 350. Lightly grease 13x9 baking pan. Mix sweetened condensed milk, lemon juice, and lemon peel; set aside. Measure out 1/4 cup and 1/3 cup white chips; set aside. Add remaining white chips to lemon mixture.
2. Beat butter and brown sugar with electric mixer on medium speed until well blended. Stir together flour, oats, pecans, baking powder, and salt. Add to butter mixture, blending well. Set aside 1 2/3 cups oats mixture. Add egg to remaining oats mixture, blending until crumbly. Press onto bottom of prepared pan. Gently spoon lemon mixture on top. Add reserved 1/3 cup white chips to reserved oats mixture. Sprinkle over lemon layer, pressing down lightly.
3. Bake 20 to 25 minutes or until lightly browned. Cool in pan on wire rack. Place remaining 1/4 cup white chips and shortening in small microwave-safe bowl. Microwave on high for 30 seconds or until chips are melted and mixture is smooth when stirred. Drizzle over baked bars. Allow drizzle to set and cut into bars.