I think I may have found an ice cream that comes darn close to moving my favorite ice cream to the number two spot. This Lemon Strawberry Ice Cream is so refreshing and so pretty in pink, I have a hard time not eating more than one or two bowlfuls. If you like your lemon desserts tart, then you'll love this ice cream.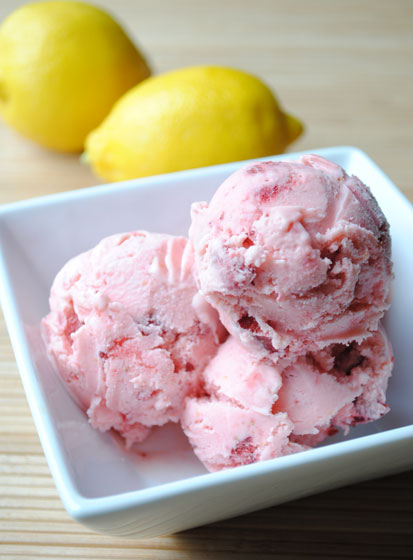 So, how's it taste?
It's like frozen lemon curd dotted with fresh strawberries. It's amazingly tart. You will get a serious pucker from this stuff…and I love it that way! It's just as tart as my Super Lemon Ice Cream, but much creamier in texture thanks to the eggs. The strawberries are first macerated in sugar before adding to the custard mixture. You'd think it would help tame the tart, but it doesn't. It's almost like the strawberries absorb the tart themselves. Lemon is definitely the standout flavor, and the strawberries don't do much more than turn it pink and add some texture. I did taste a few bites of sweetness in some of the strawberries, but even using the most ripe berries won't cut down on this level of tart. It's seriously just like my lemon curd, only in frozen form. Leave out the strawberries if you want to make only lemon ice cream.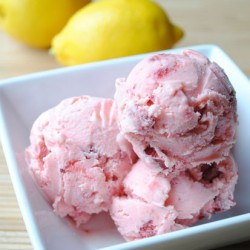 Lemon Strawberry Ice Cream
Ingredients:
1 pint strawberries, thinly sliced
2 tbsp. sugar
2 large eggs
1 cup sugar
1/2 cup fresh lemon juice (from 3 to 4 large lemons)
2 tbsp. butter
1 tsp. lemon extract
2 cups heavy cream
Directions:
1. Toss sliced strawberries with 2 tablespoons of sugar and let the fruit macerate at least 2 hours.
2. Combine the eggs, 1 cup sugar, lemon juice, and butter in the top of a double boiler. Place over simmering water and beat constantly until the mixture thickens, about 15 minutes. all the lemon curd to cool slightly. Stir in the lemon extract and cream. Cover and refrigerate until cold or overnight.
3. Stir the cold custard well and add the macerated strawberries. Freeze in your ice cream maker according to the manufacturer's directions. Transfer to a freezer-safe container and freeze at least 2 hours.