Let me introduce you to the cake that ends all cakes. And guess what? There's not a trace of chocolate in it. Say what?! I know it sounds crazy, but this Praline Pumpkin Cake has managed to make it's way into the top of my list of best desserts. It caught my eye when I was flipping through my food magazine, but I had no idea what was in store. I love this time of year and any excuse to have a pumpkin dessert, so it was an easy choice. But holy moly, this one should be on your top dessert list too!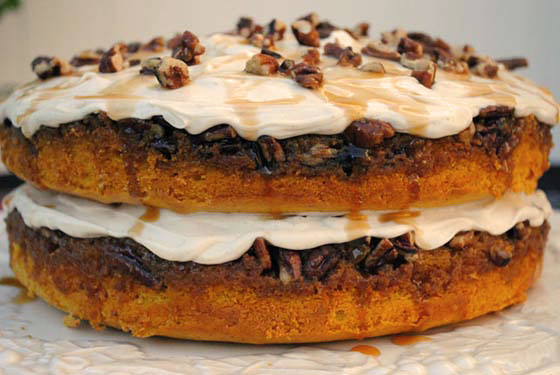 So, how's it taste?
I'm not sure where to begin. There is so much flavor going on in this cake. I knew it was going to be fantastic while I was mixing it together because the smell was so intoxicating. Not to mention how it smelled baking in the oven. The cake is your basic yellow cake mixed with pumpkin and spices. Then top that with a pecan praline crust. I'm talking buttery, creamy delicious praline with pecans. As if that wasn't sinful enough, the whole cake is iced with cream cheese frosting mixed with nutmeg, cinnamon, cloves, and ginger. Oh and while you're at it, top it with more pecans and drizzle that with caramel! Oh. My. Word. This cake will seriously make you never crave chocolate again. With the holidays coming up, I highly suggest this cake makes your menu for an unforgettable dessert. Your friends and family will start calling you cake master. I promise.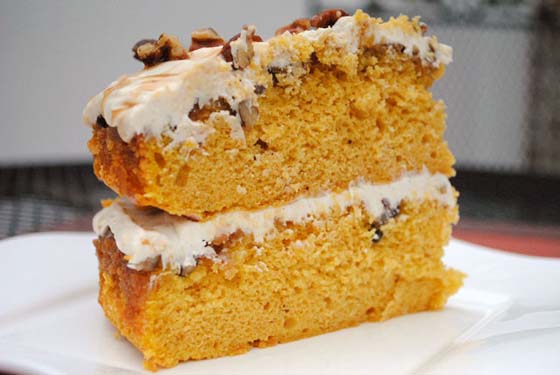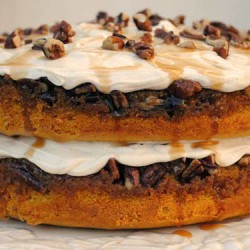 Praline Pumpkin Cake
Ingredients:
1/2 cup butter or margarine
1/4 cup whipping cream
1 cup packed brown sugar
3/4 cup coarsely chopped pecans
1 box yellow cake mix
1 cup (from 15-oz can) pumpkin (not pumpkin pie mix)
1/2 cup water
1/3 cup vegetable oil
4 eggs
1 1/2 tsp. pumpkin pie spice (or make your own - see below)
1 container (1 lb) cream cheese frosting
caramel topping, if desired
additional coarsely chopped pecans, if desired
Pumpkin Pie Spice (makes 1 tsp.)
1/2 tsp. cinnamon
1/4 tsp. ground ginger
1/8 tsp. ground cloves
1/8 tsp. ground nutmeg
Directions:
1. Heat oven to 325°F. In 1-quart heavy saucepan, stir together butter, whipping cream and brown sugar. Cook over low heat, stirring occasionally, just until butter is melted. Pour into 2 (9- or 8-inch) round cake pans; sprinkle evenly with 3/4 cup pecans.
2. In large bowl, beat cake mix, pumpkin, water, oil, eggs, and 1 teaspoon of the pumpkin pie spice with electric mixer on low speed until moistened. Beat 2 minutes on medium speed. Carefully spoon batter over pecan mixture in each pan.
3. Bake 43 to 45 minutes or until cake springs back when touched lightly in center. Cool 5 minutes; remove from pans to cooling rack. Cool completely, about 1 hour.
4. Stir remaining 1/2 teaspoon pumpkin pie spice into frosting. To assemble cake, place 1 layer, praline side up, on serving plate. Spread with half of the frosting. Top with second layer, praline side up; spread remaining frosting to edge of layer. Drizzle with caramel topping and additional pecans. Store loosely covered in refrigerator.