This time last week I was sitting at the Loveless Cafe about to pig out on one of the best breakfasts, in addition to some of the best desserts. A handful of folks were treated to brunch to celebrate the new cookbook, Desserts from the Famous Loveless Cafe by Pastry Chef Alisa Huntsman. Check out the dessert spread!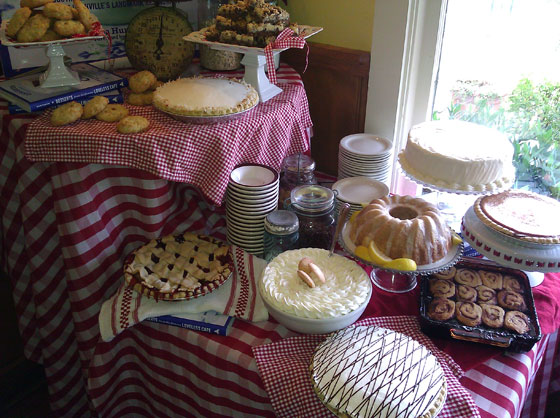 That day we sampled Muddy Fudge Pie, Double-Coconut Cream Pie, Tennessee Sweet Potato Pie, Strawberry Rhubarb Pie, Red Velvet Cake, Lemon Tunnel-of-Love Tea Cake, Loveless Banana Pudding, Blackberry Cobbler with Cinnamon-Swirl Biscuits, Coconut Chews, and my favorite from the day, Magic Bars. All of these recipes are in the book, too!
As if that wasn't enough, we enjoyed a full breakfast. Complete with eggs, hashbrown casserole, fruit, biscuits and homemade preserves, bacon, sausage, country ham, fried chicken, gravy…you get the picture of why it was such a great Friday morning! We even got a chance to speak with Alisa and hear her talk about creating each dessert and how much fun she has in the kitchen.
Excerpted from Desserts from the Famous Loveless Café by Alisa Huntsman (Artisan Books). Copyright © 2011
I couldn't wait to go home and make something from her new cookbook. Choosing a recipe to make first was difficult. I wanted to make everything! I finally decided on this Root Beer Float Cake. I am a huge fan of root beer and I've had plenty of desserts that say they're root beer flavored, but it's barely detectable. So I thought I'd put Alisa's version to the test!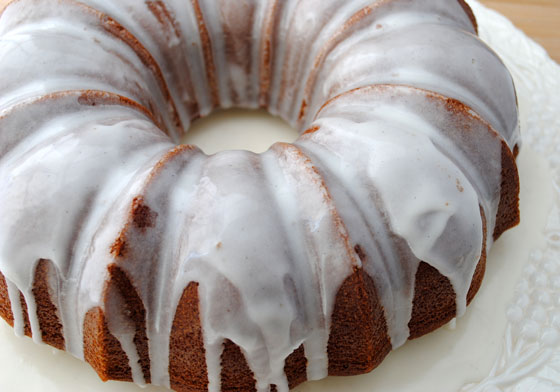 So, how's it taste?
I loved it! Alisa definitely knows her cakes. It tastes very much like a root beer float. I think the secret is the cloves, which sounds odd, but it complements the root beer flavor. Cloves can be found in some root beers along with the sassafras flavoring, so it makes sense to have it in a cake. This cake was spicy and warm and super moist. Perfect to help welcome fall which is fast approaching. And look at all that icing! It's a vanilla glaze on top and that's what makes the cake taste like a float. The cake itself isn't too terribly sweet, so the icing is just right. If you're a fan of root beer, you will love this cake, too!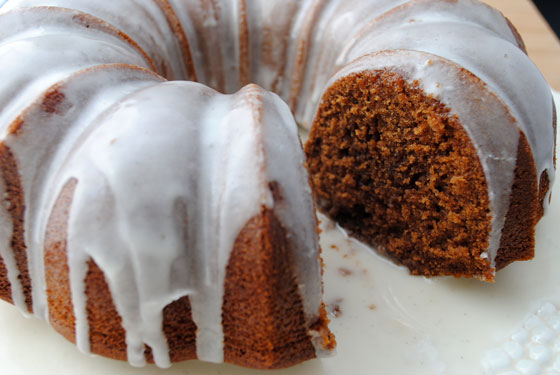 Now on to the good part! The Loveless Cafe was kind enough to give me a copy of Desserts from the Famous Loveless Cafe for one lucky reader!
Excerpted from Desserts from the Famous Loveless Café by Alisa Huntsman (Artisan Books). Copyright © 2011

To enter: All you need to do is comment on this post and tell me about your favorite dessert or if you've dined at the Loveless Cafe, tell me what you enjoyed.
Optional entries: For up to two additional entries, do one or both of the following and leave a separate comment telling me you did so.
1. Follow @sohowsittaste on Twitter and tweet the following: Win a copy of Desserts from the Famous @LovelessCafe cookbook from @sohowsittaste! http://bit.ly/owtrwd
2. Like So, How's It Taste? and Loveless Cafe on Facebook.
I'll randomly select the winner on Friday, September 30th at noon Central. Please make sure you enter a valid email address as an alternate winner will be chosen if I don't hear from you within 48 hours. Good luck!
Congratulations to comment #35 from Brittany!
You'll be enjoying some amazing southern desserts soon!
Winner chosen using Random.org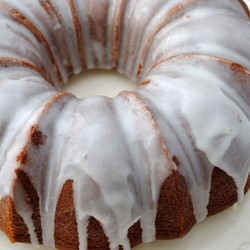 Root Beer Float Cake
Ingredients:
Cake
2 cups root beer
3 1/4 cups cake flour
2 tbsp. unsweetened cocoa powder (not Dutch process)
1 1/2 tsp. baking soda
1/2 tsp. ground cloves
1 1/2 sticks unsalted butter, softened
1 1/2 cups packed brown sugar
2 tsp. vanilla extract
1 tsp. salt
2 eggs
Vanilla Glaze
2 cups confectioners' sugar
2 tbsp. unsalted butter, melted
1/3 cup milk
1 tsp. vanilla extract
Directions:
1. Preheat oven to 350F. Grease and flour a 10-cup Bundt pan. Open the root beer to let some of the effervescence calm down.
2. Sift the cake flour, cocoa, baking soda, and cloves into a bowl; set aside. In a mixer, cream the butter, brown sugar, vanilla, and salt until light and fluffy. Add the eggs, one at a time; scrape bowl. Add the dry ingredients alternately with the root beer, scraping the bowl in between. Pour the batter into the Bundt pan.
3. Bake for 55 minutes or until a toothpick inserted in the center comes out clean. Let cake cook in pan for 15 minutes. Unmold and let cool on rack.
4. For the glaze, sift the sugar into a bowl. Add the butter, milk, and vanilla. Whisk until smooth. Drizzle glaze over cake so the entire surface is coated.