It's been all about the madeleines on my blog lately. I wasn't kidding when I said I went crazy baking them! I've shared Vanilla Madeleines and Chocolate Madeleines so far, but the flavor that sealed the deal on my love for these little cakes was Lemon Poppy Seed Madeleines. You know how I enjoy my lemon desserts and these sweet confections didn't disappoint. They are by far, my favorite madeleine yet.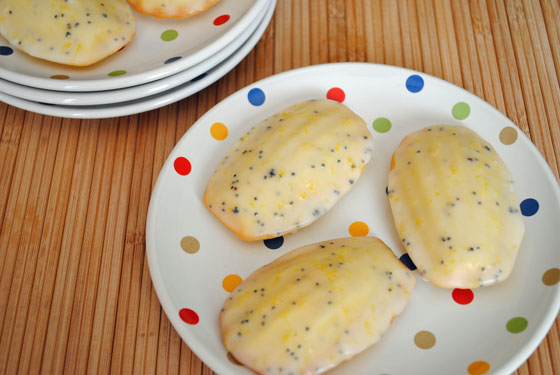 So, how's it taste?
Where to begin! They've got the classic soft, moist texture, but I added poppy seeds to both the batter and the glaze for a tiny bit of change. The cake is sweet and full of lemon, but it's the glaze that packs a lemony tart punch. I'm all over it! I loved the combination of the moist cakes with crunchy poppy seeds and a sticky glaze. This is one of those great lemon recipes where it's front and center. You won't find a subtle lemon flavor here. If you don't like your lemon desserts very tart, then I'd skip the glaze and dust with confectioners' sugar instead. Still a fantastic treat.  I will definitely make this flavor again very soon. It was the most popular when I brought the leftovers to work, too. Yes, I wrote leftovers. I had to find a way to keep from stuffing my face with these little gems, so I spread the madeleine love!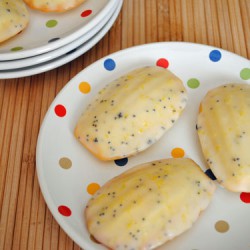 Lemon Poppy Seed Madeleines
Ingredients:
Madeleines
1/4 cup fresh lemon juice
2 cups all-purpose flour
1 tsp. baking powder
Coarse salt
6 large eggs, room temperature
1 cup granulated sugar
2 tbsp. packed light-brown sugar
2 sticks unsalted butter, melted
1 tbsp. plus 1 tsp. honey
3/4 tsp. pure vanilla extract
1/4 cup finely grated lemon zest
1 tsp. poppy seeds
Lemon Glaze
2 cups confectioners' sugar
2 tbsp. finely grated lemon zest
1/4 cup plus 2 tbsp. fresh lemon juice
1/2 tsp. poppy seeds
Directions:
1. Reduce 1/4 cup fresh lemon juice by half over medium heat; about 15 minutes. Let cool a bit.
2. Whisk together flour, baking powder, and 3/4 teaspoon salt in a medium bowl.
3. Whisk together eggs and granulated and brown sugars with a mixer on high speed until pale and fluffy, about 10 minutes. Sift flour mixture over top in two additions, folding in after each addition. Fold in melted butter in 2 additions, then honey, vanilla, reduced lemon juice, the 1/4 cup lemon zest, and the 1 teaspoon poppy seeds. Refrigerate, covered, for at least 2 hours.
4. Preheat oven to 350F. Let batter stand at room temperature for 10 minutes. Generously butter 2 standard-size or 2 mini nonstick or aluminum madeleine pans using a pastry brush or spray with cooking spray.
5. Transfer batter to a pastry bag, and snip tip to create a 1/2-inch opening. Pipe some batter into molds, filling each about three-quarters full. Bake on middle rack until pale gold, 8 to 11 minutes (6 to 8 minutes for mini madeleines). Immediately shake madeleines out. Wash and rebutter molds. Repeat with remaining batter.
6. For the glaze, whisk together the 2 cups confectioners' sugar, 2 tablespoons lemon zest, 1/4 cup plus 2 tablespoons fresh lemon juice, and 1/2 teaspoon poppy seeds. Dip scalloped side of each baked madeleine into glaze and wipe excess off sides. I set my dipped madeleines on a wire rack over a baking sheet to catch the drippings.