These Cranberry White Chip Oatmeal Cookies were the first ones out of the oven on cookie baking day. It's always exciting when that first batch is ready. I could hardly wait for them to cool enough to eat. The combination of white chocolate and cranberry is delicious and such a classic. I loved these cookies because the specks of red from the cranberry were perfect for Christmas.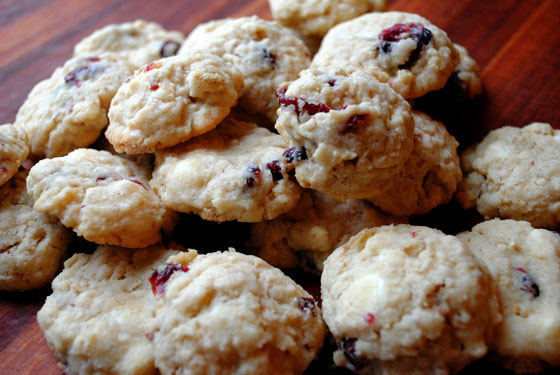 So, how's it taste?
They were awesome! I usually don't go as bonkers for white chip cookies as I do for chocolate chip cookies, but I really really liked these. The tangy cranberries were perfect paired with the sweetness of the white chips. The oatmeal gave a great texture and there's a surprise ingredient…crisp rice cereal. The slight crunch of the cereal added another texture layer to make these cookies stand out. I scooped these cookies a bit smaller than what the recipe called for, but I like the little bites, especially when there's so many varieties of cookies. Makes it easier to sample several recipes as we're baking throughout the day without going into a sugar coma!
The red from the cranberries and the green from the pistachios in the Iced Lemon Pistachio Cookies made for a very festive cookie presentation!
Other goodies from Cookie Baking Day 2011:
Cream Cheese Spritz Cookies
Orange Pecan Gems
Iced Lemon Pistachio Cookies
Chocolate Malt Cookies
Triple Chocolate Oreo Chunk Cookies
Banana Walnut Chocolate Chunk Cookies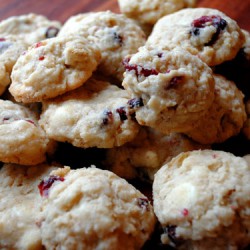 Cranberry White Chip Oatmeal Cookies
Ingredients:
3/4 cup butter, softened
1 tsp. vanilla
1 egg
1 1/2 cups all-purpose flour
1 tsp. baking powder
1/4 tsp. salt
1/2 cup crisp rice cereal
1/2 cup white vanilla chips
1/2 cup sweetened dried cranberries
1/2 cup rolled oats
1/2 cup firmly packed brown sugar
1/2 cup sugar
Directions:
1. Heat oven to 350 degrees. Spray cookie sheets with nonstick cooking spray or line with parchment paper.
2. In a large bowl, combine butter, vanilla, and egg; beat well. Add all remaining ingredients, mix until well blended. Drop dough by rounded tablespoons onto prepared cookie sheets.
3. Bake at 350 degrees for 9-12 minutes or until edges are golden brown. Cool 1 minute then remove from cookie sheets.