Cookies are just the best. You name the flavor, there's probably a cookie out there for it. They're so easy to make and what I like best is they're portable! We had a Nashville Food Bloggers shindig not too long ago and I knew I would make cookies. Easy to bake, easy to carry, easy to eat. I like using cookies with pudding in the mix because they are so moist, so I chose Snickers Cheesecake Pudding Cookies! Two of my favorite flavors all in one cookie.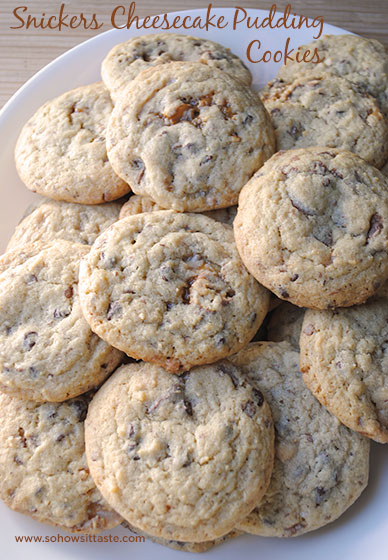 So, how's it taste?
They turned out just perfectly with the texture. Pudding in the mix works like a charm every time. I was slightly disappointed because I couldn't taste the cheesecake at all. Zilcho. I really wanted that with the bites of Snickers. I say slightly disappointed because hey, they're still cookies filled with Snickers and mini chocolate chips, so who am I to complain really. The Snickers Unwrapped Bites work wonderfully in this recipe because you don't have to unwrap a billion candy bars and they are the perfect size, so no chopping!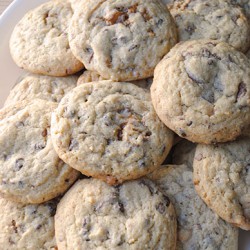 Snickers Cheesecake Pudding Cookies
Ingredients:
2 1/2 cups all-purpose flour
1/2 tsp. salt
1 tsp. baking soda
1 cup butter, room temperature
3/4 cup brown sugar
1/4 cup granulated sugar
2 eggs
1 tsp. vanilla
1 box (3.4 oz.) cheesecake instant pudding mix
1 cup mini semisweet chocolate chips
1 bag (8 oz.) Snickers Unwrapped Bites
Directions:
1. Preheat oven to 350F. Line baking sheets with parchment paper. In a large bowl, whisk together the flour, salt, and baking soda. Set aside.
2. Using a stand mixer with the paddle attachment, cream the butter, brown sugar, and granulated sugar together until fluffy. Add the eggs, vanilla, and pudding mix. Beat until combined.
3. Slowly add the dry ingredients until just combined. Fold in the mini chocolate chips and Snickers bites with a spatula.
4. Scoop dough by heaping tablespoons onto baking sheets, 2 inches apart. Bake for 10-12 minutes until edges are golden brown. Let cool on the baking sheet for 5 minutes before removing to wire rack to cool completely.