I can't believe after 2 1/2 years of blogging, I don't have a cheesecake recipe. Well, I do, but if you read that post, you'll see I didn't love it and it's not really cheesecake. I'm happy that I finally have a winner in the cheesecake category…Mini Oreo Cheesecakes! These little single servings are so cute and the crust is a whole Oreo cookie. They couldn't be easier to make and oh boy do they taste fantastic!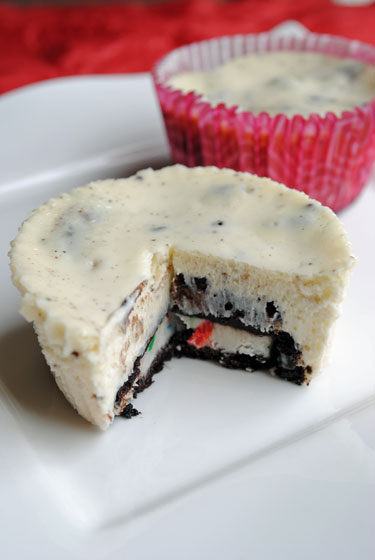 So, how's it taste?
They turned out so well. The only downside is they are so small, you'll want to eat three of them, and that is perfectly acceptable. 🙂 I'm usually apprehensive with cheesecake because it's hard to tell when they're ready to come out of the oven. I was nervous that these were undercooked, since you take them out while the middles are still jiggly. After cooling completely and letting the refrigerator work it's magic, they were perfect! The texture of the cheesecake is so creamy and I liked the bursts of Oreo chunks throughout. The sour cream adds just a bit of tang that I think is needed to balance the sweet. You can really smell the tangy sour cream, but the flavor isn't as strong, so don't get worried! Using a whole Oreo as the crust is genius and makes it so easy. In the picture above, you'll see I used the new Birthday Cake Oreos as the crust. They really do taste like cake and frosting, but they are really rich. I also made some with original Oreos as the crust, and I liked those better. The single-serving size makes these great for any special occasion, even if that occasion is just "I want some cheesecake!"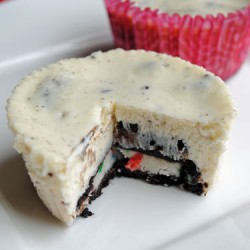 Mini Oreo Cheesecakes
Ingredients:
42 Oreos, 30 whole & 12 coarsely chopped
2 lbs. cream cheese, room temperature
1 cup sugar
1 tsp. vanilla
4 large eggs, room temperature, lightly beaten
1 cup sour cream
Pinch of salt
Directions:
1. Preheat oven to 275F. Line muffin tins with paper liners. Place 1 whole cookie in the bottom of each lined cup.
2. With an electric mixer on medium high speed, beat cream cheese until smooth, scraping down sides of bowl. Gradually add sugar, and beat until combined. Beat in vanilla.
3. Add eggs gradually until combined, scraping down sides of bowl. Beat in sour cream and salt. Fold in chopped cookies by hand.
4. Divide batter evenly among cups, filling each almost to the top. Bake, rotating pan halfway through, until filling is set, about 22 minutes. Transfer to wire racks; cool completely. Refrigerate at least 4 hours or overnight. Remove from tins for serving. Store in refrigerator.