Happy Halloween!
Remember the Candy Corn Fudge I made, but didn't love the taste? Well, ta da! These cute little Gremlins are the result of me not wanting to waste food. I've made these butterscotch and chocolate clusters numerous times before, but never thought about adding candy and turning them into critters. Aren't they cute?!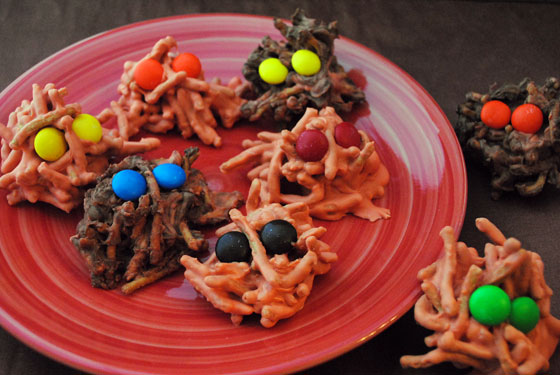 So, how's it taste?
They taste good! I melted down my Candy Corn Fudge and stirred in the chow mein noodles. The noodles helped offset the sweet. For one batch, I swirled in melted semi-sweet chocolate chips. While I enjoyed these, I recommend sticking to the original recipe and not making the fudge. This was just a way for me to not waste candy. I cannot stand to throw food away. I've made a few variations of this recipe in the past and all have turned out great. You can use the combination of butterscotch and chocolate chips, or you can use all butterscotch or all chocolate chips. You can also reduce the chow mein noodles by 1 cup and add 1 cup of peanuts. It's up to you!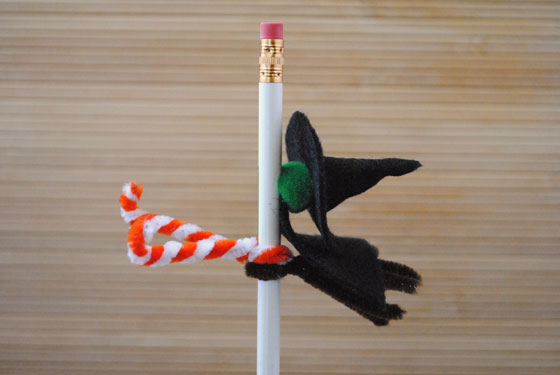 I was feeling really festive this Halloween, so for your crafty enjoyment, here's a Smashed Witch Pencil I made. I giggle every time I see this. It's hysterical and pretty easy to make. Here's how I did it:
For 4 witches you'll need:
4  pieces orange pipe cleaner (6 inch)
4  pieces white pipe cleaner (6 inch)
4  pencils
Heavy kitchen scissors or wire cutter
4  brown pipe cleaners (12 inch)
White paper or tissue paper
1  square black craft felt (about 10×8 inch)
4  green pom-poms (1/2 inch)
Tacky white craft glue or low-temperature hot glue
1. To make each smashed witch pencil, twist 1 orange and 1 white pipe cleaner piece together. Fold and wrap pipe cleaners in half around pencil about 2 1/2 inches from eraser end; twist 2 or 3 times to secure and create legs of witch. Bend ends of twisted pipe cleaners, creating toes/feet of witch.
2. With scissors or wire cutter, cut brown pipe cleaner into 4 (3-inch) pieces. Gather 3 pieces into bundle; wrap remaining piece around middle of bundle and twist once and attach to pencil below the orange and white pipe cleaners. Bend, twist and shape the remaining pieces to resemble witch's broom.
3. Using paper, trace pattern pieces; cut out. Cut cape from black felt. Cut and discard top point of cape. Glue cape to pencil about 3/4 inch above legs, leaving end loose to flop over broom. Glue pom-pom to top point of cape for head.
4. Cut circle from black felt to create brim of hat. Glue brim centered over "head." Cut cone of hat. Spread glue along one short side of triangle; overlap other short side and press with fingers to secure the glued area.* Trim excess felt. Glue cone to hat brim. Repeat for remaining witch pencils.
*I found the tacky craft glue doesn't love to stick to felt, so I ended up sticking a straight pen in the felt to form the hat cone. This method obviously isn't for kids, so you may want to try the hot glue gun route instead of the craft glue.
This past weekend, my friend Carol and I ran in the Zombie 5K here in Nashville. We decided to bring back the 80s and run from the zombies in style. I don't know what was scarier, us or the zombies!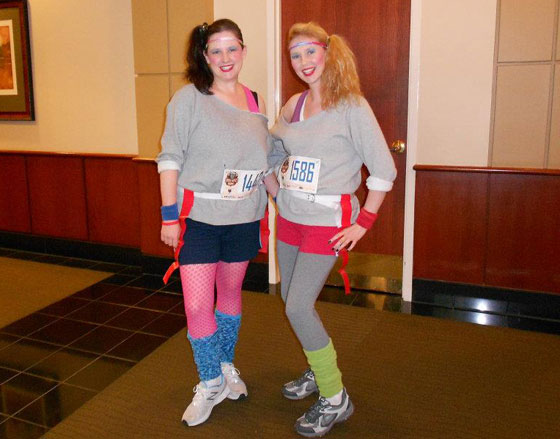 Later that night, I went as the Black Swan. I was pretty proud of my makeup skills! What costume did you wear this year?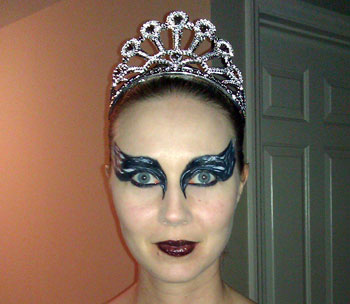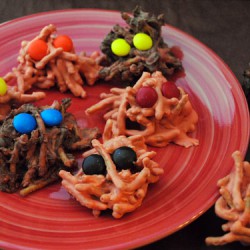 Gremlins
Pillsbury
makes 24 gremlins
per gremlin: 100 calories, 4.5g fat, 14g carbs, 3g fiber, 0g protein
Ingredients:
1 cup butterscotch chips
1 cup semisweet chocolate chips
2 cups chow mein noodles (or 1 cup noodles + 1 cup nuts)
48 miniature candy-coated chocolate baking bits
Directions:
1. In 2-quart saucepan, heat butterscotch chips and chocolate chips over low heat, stirring constantly, until melted and smooth.
2. Gently stir in chow mein noodles until well coated. Drop mixture onto wax paper by teaspoonfuls to form 24 "gremlins." Press 2 baking bits onto each to resemble eyes. Refrigerate until set.