Oh how I love tollhouse pie. My mom and I have made it several times throughout the years. It's full of chocolate chips and nuts and sweet decadence. I also know it as derby pie. In college, I'd get so excited when it was derby pie day at my roommate's sorority house and she'd invite me for lunch. When I got the cookbook Baked, I flipped out when I saw Tuscaloosa Tollhouse Pie. If you've been reading this blog, you may have figured out I went to The University of Alabama, which is in Tuscaloosa. And here in my new cookbook was the pie! One of the authors/bakers went to Alabama and included my beloved pie in their first cookbook. I knew I liked these boys.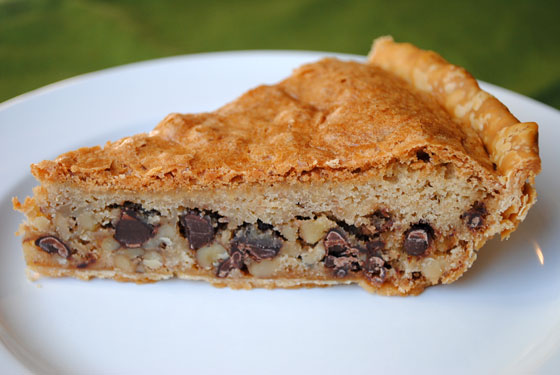 So, how's it taste?
This could easily be in the running for my all time favorite pie. It's got my two favorite dessert elements, chocolate and nuts. Think of a cross between pecan pie and a chocolate chip cookie! You can use pecans if you prefer them over walnuts. I've had this pie with both versions and each is fantastic. I personally don't toast the nuts before I put them in the pie, but you can if you find it enhances the flavor. The flour may seem like an odd pie ingredient, but it creates this top layer of goodness. It's not cakey, but more like a light cookie dough base. All the chips and walnuts sink to the bottom, so you can see it doesn't make the prettiest of pies. A slice is best served warm and even more over-the-top with a scoop of vanilla ice cream! Roll Tide!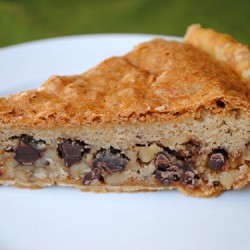 Tuscaloosa Tollhouse Pie
Ingredients:
1 refrigerated pie crust (or make your own)
1/2 cup all-purpose flour
1/2 cup granulated sugar
1/2 cup firmly packed dark brown sugar
2 large eggs
3/4 cup unsalted butter, softened, cut into cubes
1 tbsp. whiskey
3/4 cup walnuts (or pecans), chopped (toasted optional)
1 1/4 cups (8 oz.) semisweet chocolate chips
Directions:
1. Place pie crust into pie dish, crimping the edges and folding any overhang under. Preheat oven to 350F.
2. In a medium bowl, whisk flour and both sugars until combined.
3. In the bowl of an electric mixer fitted with the whisk attachment, beat the eggs on high speed until foamy, about 3 minutes. Switch the whisk attachment to the paddle attachment. Gradually add the flour mixture while the mixer is on low. Change to high speed and beat for 2 minutes. Scrape the bowl and add the butter. Mix on high until combined. Add the whiskey and beat on high for 1 minute. Fold in the walnuts and 3/4 cup of the chocolate chips.
4. Pour filling into pie shell and evenly spread on top. Top with remaining 1/2 cup chocolate chips.
5. Bake for 25 minutes, then cover edges with foil and bake for another 25 minutes. (Mine didn't take quite that long, so check periodically closer to time.) Test pie by sticking with a knife or toothpick in the center. It's done when they come out clean. Transfer pie to a rack and cool before slicing. Store in refrigerator.