I've gone strawberry crazy in my kitchen, and I'm quite happy about it. I've now made two trips to Bradley Kountry Acres and have heaps of fresh strawberries. Unbelievably sweet, juicy, local strawberries. Completely different from anything you can buy in the grocery store. After having a successful attempt at making lemon curd last year, I wanted to try Strawberry Curd. Curd is such an unfortunate name for such a decadent sauce. It's excellent over any kind of pastry, especially scones, or try eating it right off the spoon!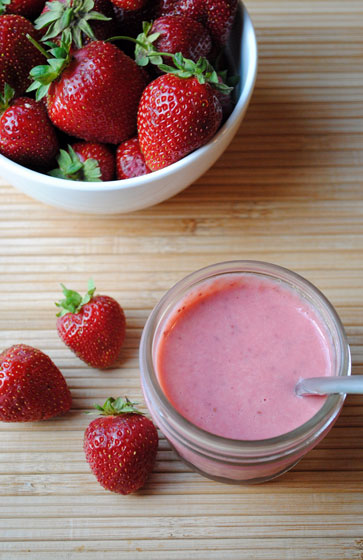 So, how's it taste?
Strawberry-licious! The sweetness of the strawberries really comes through in this sauce. It's not quite as rich and thick as the lemon curd, but I enjoyed it. It's a fairly thin sauce, which is perfect for drizzling over scones or if you're like me, drowning your scones in it! It's not a perfectly smooth texture since I left the seeds in, but you could certainly strain the puree if you wanted. I love the pretty, pale pink color. While I think I would like it a bit thicker, I do like that it's not sickeningly rich. It's not full of egg yolks and a ton of butter, which surprised me compared to the lemon curd I made. It's a simple strawberry sauce with a touch of luxury.
Coming up next on the blog, a recipe for strawberry scones that pair beautifully with this strawberry curd!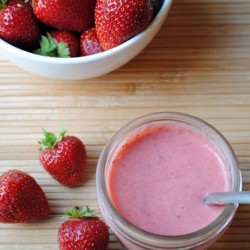 Strawberry Curd
Ingredients:
14 oz. fresh strawberries
2 large eggs
3 large egg yolks
1/3 cup sugar
3 tbsp. unsalted butter, cubed
1 tbsp. freshly squeezed lemon juice
Directions:
1. Puree the strawberries in a food processor. In a small, heavy saucepan, bring the puree to a slight simmer.
2. In a double boiler, or in a glass bowl that fits over a saucepan, whisk the eggs, yolks, and sugar. Slowly add the hot strawberry puree in a thin stream while whisking. Place the double boiler or the glass bowl with the egg mixture over a medium pan of simmering water and heat, whisking constantly, for 4 to 5 minutes, or until thick.
3. Stir in the butter and lemon juice. Pour in a glass container and let come to room temperature then chill in the refrigerator.