It's the last cookie from Cookie Baking Day 2012! How fast the holidays go by. My mom made these Mexican Wedding Cookies a few months back and they were so delicious, we decided to include them on the list. You know the Danish Wedding Cookies in the pink box you can buy? These are very similar except there's no coconut. I think this homemade version is a million times better. I'm not sure what makes them Mexican or Danish, but I don't care where they come from when they taste this good.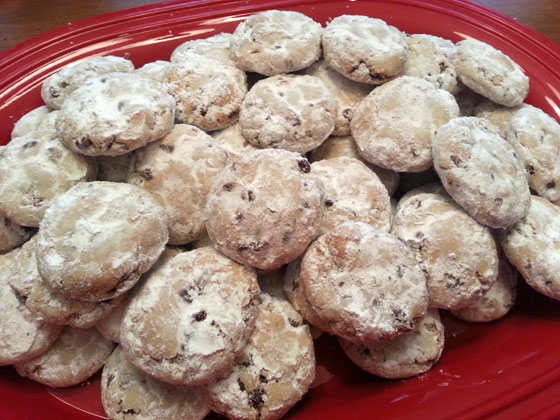 So, how's it taste?
It's the perfect little cookie. Not too sweet shortbread-ish base speckled with chocolate chips and pecans, then dip the whole thing in powdered sugar. They have great texture, too. A bit crunchy, yet a bit soft. The fun part is getting messy dipping the cookies. You need to do it when the cookies are warm, but be careful if they are too hot. I like to dip a batch and then dip them a second time to make sure they really get coated. You can leave out the pecans if you prefer, too.
Other goodies from Cookie Baking Day 2012:
Cream Cheese Spritz
Cranberry Orange
Snickersnaps
Butterscotch Spice
Mint Chocolate Pudding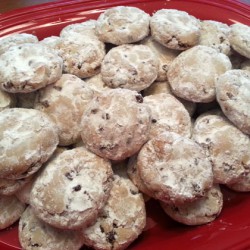 Mexican Wedding Cookies
Ingredients:
1/2 cup vegetable shortening
1/4 cup water
1 tsp. vanilla
1 egg white
1 box white cake mix
1/2 cup chopped pecans
1/2 cup mini semisweet chocolate chips
powdered sugar
Directions:
1. Preheat oven to 375F.
2. Mix shortening, water, vanilla, and egg white thoroughly. Add cake mix and mix again until there are no lumps. Add pecans and chocolate chips, and mix until incorporated.
3. Roll into one-inch balls. Place about two inches apart on ungreased cookie sheet. Bake until almost set, about ten minutes.
4. While warm dip cookies in powdered sugar, cool a bit, then dip a second time for even coating.