Forgive me for all these gnarly pictures I'm posting lately. I'm still playing catch up from holiday goodies and I just never get good pictures then. You'd never speak to me if I didn't share this Deep Dark Mocha Cake with you though. I could not wait to get a slice of this! The name is a bit confusing because there's no dark chocolate in sight, so I'm not sure why it's named "deep dark." When it tastes this good, I don't care what you call it! Take an ordinary chocolate cake and soak it with espresso, next add a layer of cream cheese filling, then cover the entire cake in chocolate ganache. Done, done, and done!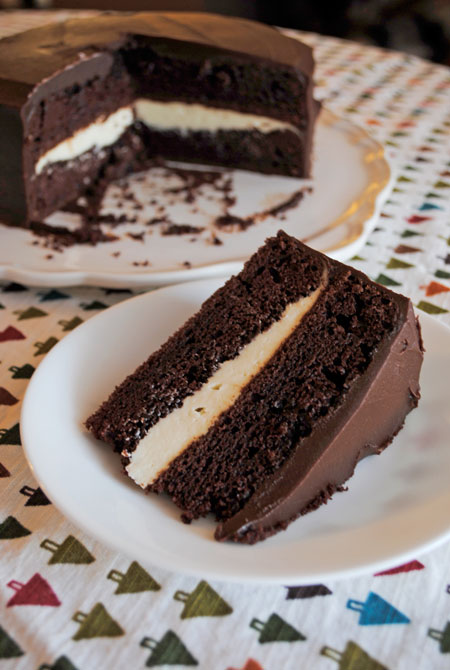 So, how's it taste?
The original recipe calls for this to be a torte, but I didn't feel like trying to slice cakes and I wanted to reduce the amount of filling to make this cake less rich. What? Yeah, that makes no sense, but carry on. This cake was exceptional! I couldn't really detect the espresso as much as I wanted though. So the final cake was just a chocolate cake, cream cheese filling, chocolate ganache. I didn't miss the espresso! The ganache is pretty much to die for. I will definitely be making this one again someday and I might just get crazy and do the entire torte. 😉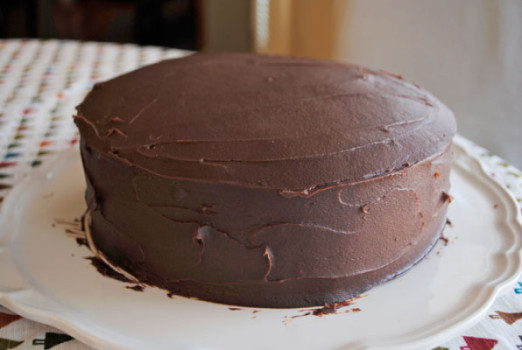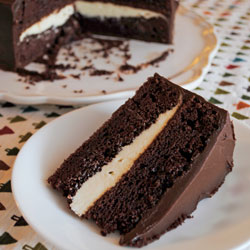 Yield: 12 servings
Prep Time: 50 min
Total Time: 3 hr 25 min
Deep Dark Mocha Cake
Ingredients:
Cake
1 box chocolate fudge cake mix (I used Devil's Food)
Water, vegetable oil, and eggs called for on cake mix box
1/3 cup granulated sugar
1/3 cup rum or water (I used rum)
1 1/4 tsp. instant espresso coffee granules/powder
Filling
1 package (8 oz. each) cream cheese, softened
1/2 cup powdered sugar
1/2 tsp. vanilla
1 to 1 1/2 tsp. milk
Ganache
1 1/2 cups semisweet chocolate chips
6 tbsp. butter
1/3 cup whipping cream
Directions:
1. Heat oven to 350F (325F for dark or nonstick pans). Grease and lightly flour two 8- or 9-inch round cake pans, or spray with baking spray with flour. Make and cool cakes as directed on box for 8- or 9-inch rounds. Refrigerate layers about 45 minutes for easier handling.
2. Meanwhile, in 1-quart saucepan, stir granulated sugar, rum, and coffee granules until coffee is dissolved. Heat to boiling, stirring occasionally; remove from heat. Cool completely.
3. In medium bowl, beat filling ingredients with electric mixer on low speed just until blended, adding enough milk for spreading consistency; set aside.
4. In 1-quart saucepan, heat ganache ingredients over low heat, stirring frequently, until chips are melted and mixture is smooth. Refrigerate about 30 minutes, stirring occasionally, until slightly thickened.
5. Level cakes if necessary. Brush about 1 tablespoon of the rum mixture over top (or cut side if you leveled) of each layer; let stand 1 minute to soak into cake. Spread filling over the top of one layer. Top with second layer of cake. Spread ganache over side and top of cake. Store loosely covered in refrigerator.