Longest name for a dessert ever, right? I saw Giada De Laurentiis make these cupcakes on her show recently and instantly knew I'd found the perfect dessert for my coworker's birthday. He's a big lemon lover (see the cupcakes I made him last year) and I just had to taste that frosting. Lemon Angel Food Cupcakes with Lemon Curd and Mascarpone Frosting blew my mind! So much so, that I may or may not have eaten five the night I baked them. Oops!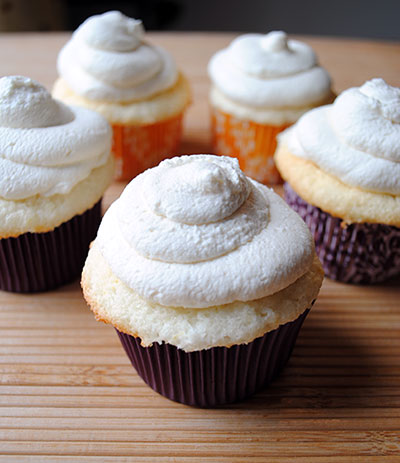 So, how's it taste?
These cupcakes were amazing. I really should make (and eat!) angel food cake more often. I forget how light and perfectly sweet it is. This recipe is based on a cake mix, but you could certainly make your own if you want. Lemon juice and zest are added to the angel food cake mix, so it has a very delicate lemon flavor. After they're baked, they get sort of a crunchy crust and the inside is moist and fluffy. They are seriously good on their own with no filling or frosting.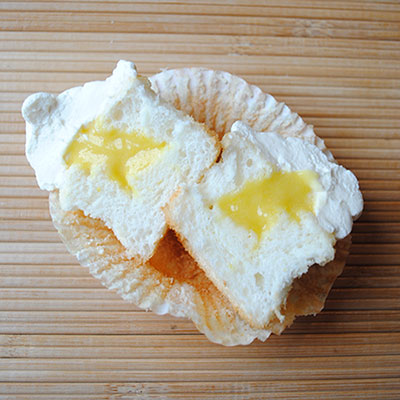 To make them extra special and to give a zing of tart lemon, the cupcakes are filled with lemon curd. I've shared with you my love for lemon curd before and it continues. It's so tart and buttery and smooth and creamy. It's lemon perfection. The cupcakes are very lightly lemon, so this shot of lemon curd really brings it!
Now about that mascarpone frosting. Good grief it's heavenly. I wouldn't top angel food with buttercream because it's so delicate. It needs more of a whipped cream-type topping. The mascarpone and vanilla give it a little extra oomph than just plain whipped cream. It's a bit thicker and slightly sweet. The perfect topping to one of the best cupcakes I've ever made.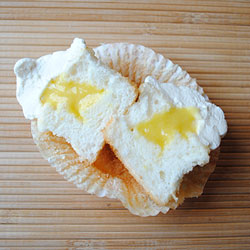 Yield: about 24 cupcakes
Prep Time: 45 min
Cook Time: 25 min
Total Time: 1 hr 40 min
Lemon Angel Food Cupcakes with Lemon Curd and Mascarpone Frosting
Ingredients:
Lemon Curd
3 egg yolks, room temperature
Zest of 2 lemons
1/4 cup fresh lemon juice (about 2 large lemons)
1/3 cup sugar
1/8 tsp. fine salt
4 tbsp. unsalted butter, cut into 1/2-inch cubes, at room temperature
Cupcakes
1 (1 lb.) box angel food cake mix (I used Duncan Hines)
Zest of 2 lemons
1/4 cup lemon juice
1 cup water
Frosting
2 cups heavy whipping cream, chilled
1/4 cup powdered sugar
1 tbsp. pure vanilla extract
8 oz. mascarpone cheese, room temperature
Directions:
1. For the lemon curd, whisk together the egg yolks, lemon zest, lemon juice, sugar, and salt in a medium saucepan. Set the saucepan over medium-low heat and cook, stirring constantly with a wooden spoon or spatula and making sure to scrape the sides and bottom of the pan, until the mixture is thick enough to coat the back of a spoon, 3 to 5 minutes. Remove from the heat and add the butter, one piece at a time, stirring until smooth. Transfer the curd to a heat-proof bowl and cover the surface with plastic wrap to avoid a skin from forming. Refrigerate until chilled and firm, about 30 minutes.
2. For the cupcakes, set racks on the upper and lower thirds of the oven and preheat to 350F. Line two muffin pans with cupcake liners. In the bowl of an electric mixer, combine the cake mix, lemon zest and juice, and 1 cup water. Beat on low speed for 30 seconds to incorporate, then raise the speed to medium and beat until the mixture is light and fluffy, about 1 minute. With a scoop or spoon, fill the liners three-quarters full with batter. Bake for 15 minutes, or until the cupcakes are golden brown and the top feels dry. Let the cupcakes cool completely before filling and frosting, about 30 minutes. (I got 27 cupcakes total and I had several that were filled too much. You may get more cupcakes, but the curd is only enough for 24.)
3. For the frosting, in the bowl of an electric mixer, combine the heavy cream, powdered sugar, and vanilla. Whip until thick, about 2 minutes. Add the mascarpone and beat until stiff peaks form. (My heavy cream didn't get that thick after 2 minutes. If this happens, go ahead and add the mascarpone. It will thicken and form stiff peaks anyway.)
4. To assemble, use a small spoon (or end of a wooden spoon) to make a shallow indentation in the center of each cupcake. Fill each indentation with 1 teaspoon of the lemon curd. Use a spatula or piping bag to swirl a generous dollop of frosting over the top of each cupcake. Serve immediately or store in refrigerator until ready to serve.