Four years y'all! As in four years ago today I started So, How's It Taste. I never imagined back then I'd keep this thing up that long…and still have fun doing it. I mean four years is a long time. Think back to what all you've done since August of 2009. I still crack up when I see those first few posts. I may not be anywhere near what I consider good at food photography but I'd like to think I've improved over the years. I also crack up that I have a post on yogurt and you can see where I didn't blog for a few months, being a little unsure if I wanted to keep it up or not. I'm sure glad I did. I love sharing the places I've eaten and the recipes I've made. Like these Every Chip Oatmeal Cookies! I thought about baking a cake or pie, but I've been in such a cookie mood lately. These are perfect because I have a tough time choosing between cookie flavors, so now you don't have to!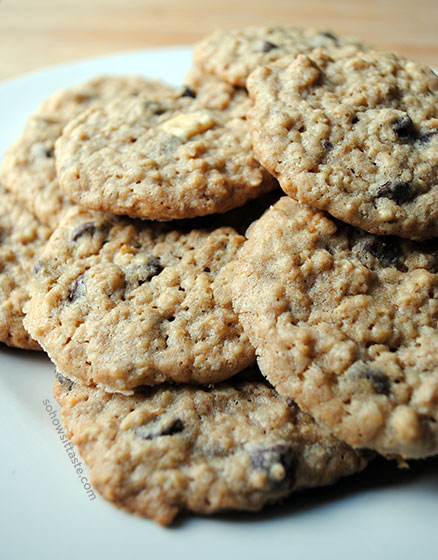 So, how's it taste?
Oh my gosh they are perfect! I get so indecisive when it comes to cookies, or really any dessert. Being forced to pick a flavor when I really want to say, "One of each, please" is pure torture. I was flipping through my Best Loved Hershey's Recipes
cookbook and stopped on a recipe for peanut butter and chocolate chip oatmeal cookies. I was instantly sold, but they were out of peanut butter chips at my grocery store. No problem, I'm just going to put in all the chips! I added semisweet, dark, milk, white, and butterscotch. You could really do any combination you like and even add peanut butter chips to make them truly every chip. Just make sure your chips equal 1 3/4 cups, so go crazy!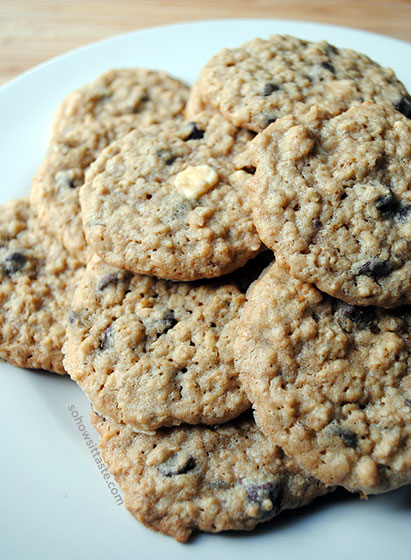 The cookies came out chewy, yet slightly crispy on the outside. I love oatmeal cookies because they are so hearty (but that didn't stop me from eating 4 in one sitting – hey it's for my 4th blogiversary – I had to). I scooped mine a little bigger so the cookies spread more and are thinner than what was pictured in the cookbook. Any way you scoop them, they will be fantastic!
If you've been with me for the past four years, thank you for sticking around and enjoying all this food with me. If you're new to So, How's It Taste, I hope you stay a while so we can celebrate five together next year. While I love blogging, it's not always easy. It's hard to not compare yourself to others and hard not to feel a little left out when you don't get invited to food events. Some days I just want to make dinner and sit down and eat it and not worry about taking its picture. But what keeps this fun and keeps me going is all the sweet comments and emails I receive. I had a reader email me that one of my recipes reminded her of when she ate it as a kid and thanked me for bringing that memory back. She was 94. I had another reader tell me how she and her granddaughter had such fun making one of my desserts together. I can't tell you how much those emails brighten my day!
I have some new plans on the way for So, How's It Taste, so I hope you all stay tuned and thanks for making the past four years so much fun!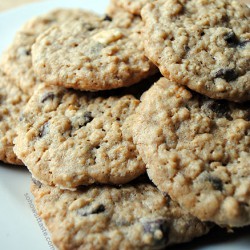 Every Chip Oatmeal Cookies
Ingredients:
1 cup (2 sticks) butter, room temperature
1 cup packed light brown sugar
1/3 cup granulated sugar
2 eggs
1 1/2 tsp. vanilla
1 1/2 cups all-purpose flour
1 tsp. baking soda
1/2 tsp. salt
1/2 tsp. ground cinnamon
2 1/2 cups quick-cooking oats
1/2 cup semisweet chocolate chips
1/2 cup dark chocolate chips
1/4 cup milk chocolate chips
1/4 cup butterscotch chips
1/4 cup white chocolate chips
Directions:
1. Preheat oven to 350F.
2. Beat butter, brown sugar, and granulated sugar in a bowl until creamy. Add eggs and vanilla; beat well. Combine flour, baking soda, salt, and cinnamon; add to butter mixture; beat well. Stir in oats and chips (mixture will be thick). Drop by rounded teaspoons onto ungreased cookie sheet.
3. Bake 10 to 12 minutes or until lightly browned. Cool 1 minute; remove from cookie sheet to wire rack.
adapted from Best Loved Hershey's Recipes
This post contains affiliate links.