These brownies aren't just chocolatey treats, but brownies kicked up a notch…or two. I wanted something different to bring to a cookout, and it had to be easy to make. Surfing through FoodNetwork.com, I found these Mexican Brownies. Just what I was looking for! This recipe could not be easier, even from a box. And talk about different. Not only is there the added touch of cinnamon, but a secret ingredient…cayenne pepper!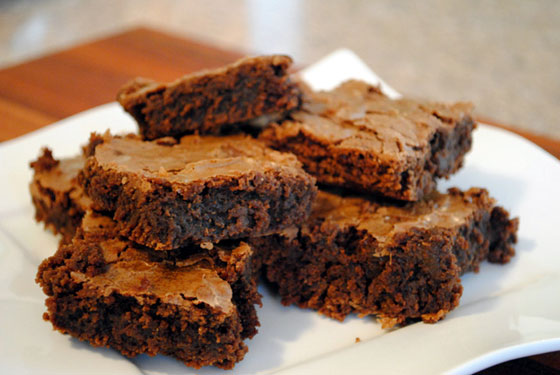 So, how's it taste?
Wowza! If you've never had brownies with cinnamon, I suggest you stop what you're doing and make this recipe right this second. They were so easy. Melt some butter in a saucepan, add all the ingredients, then bake. Simple! The smell in my kitchen while these were baking was pure bliss. I didn't have the Mexican cinnamon the recipe called for, but I'd love to bake these again with that kind of cinnamon. I was excited to see how the brownies would turn out with the cayenne pepper. You couldn't tell the cayenne was in them unless someone told you, but you could feel a nice warmth after each bite. I think next time I'll add a little more to make it more noticeable, but not too hot. These brownies were a hit at the cookout and disappeared pretty quickly, always a good sign.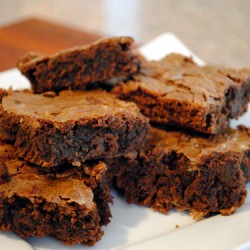 Mexican Brownies
Ingredients:
2 sticks unsalted butter, plus more for greasing
2 cups sugar
4 large eggs
2 teaspoons vanilla extract
2/3 cup good-quality unsweetened cocoa powder
1 cup all-purpose flour
1 teaspoon ground Mexican cinnamon (canela)
1/4 teaspoon pequen chili powder or cayenne pepper
1/2 teaspoon kosher salt
1/2 teaspoon baking powder
Directions:
1. Preheat oven to 350 degrees. Grease a 9x13 baking dish with butter.
2. Melt the 2 sticks of butter in a nonstick saucepan over medium-low heat; do not boil. Remove from the heat and let cool slightly. Add the sugar, eggs, and vanilla and stir with a wooden spoon until combined.
3. Add the cocoa, flour, cinnamon, chili powder, salt, and baking powder and mix until smooth. Spread the batter in the prepared pan and bake until a toothpick inserted in the middle comes out fudgy, 20 to 25 minutes. Cool in the pan on a rack before slicing.