Nothing says Spring to me like a dessert filled with fruit. Tart lemon and sweet berries make this Gingered Lemon Berry Tart irresistible. The crust is simple to make using store-bought puff pastry. The filling is quickly made in a saucepan and once it cools, it's a matter of assembly. Light and refreshing, this dessert is sure to please anyone.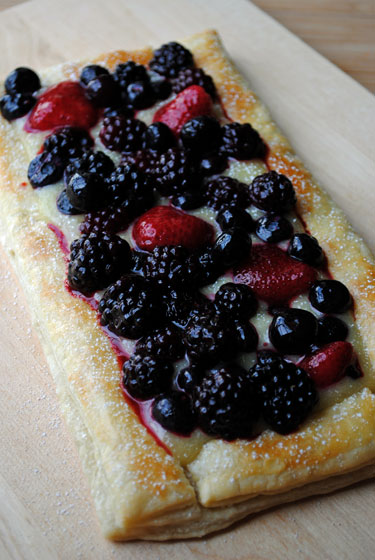 So, How's It Taste?
Love at first bite. Serious love. I like my lemon desserts on the tart side and this doesn't disappoint. The filling is super lemon tart but the berries and crust help to sweeten the dessert a bit. The crystallized ginger turns into wonderful pops of spiciness. The puff pastry is such a great crust because it's light and airy. It goes perfectly with the creamy filling. The berries take it over the top. Bursts of sweet berry meet the tart filling, all delivered on a crispy crust. It's heaven.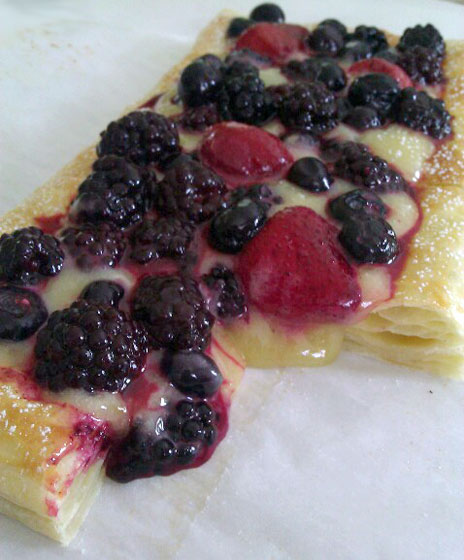 It's a bit gooey, but that adds to its decadence. Look at all that lemony berry goodness oozing out! It was incredibly hard not to devour the entire tart in one sitting! I used frozen berries and that's why you see berry juice mixed in with the filling. Fresh berries would work much better and would prevent any spots of berry juice. This is the type of dessert you want to make the day you plan to serve it. You can bake the puff pastry crust the day before or morning of, but I would assemble as close to serving time as possible. Although this tart tasted just as delicious the next day, since I used frozen berries, the berry juice was everywhere and not as pretty as when it was first put together.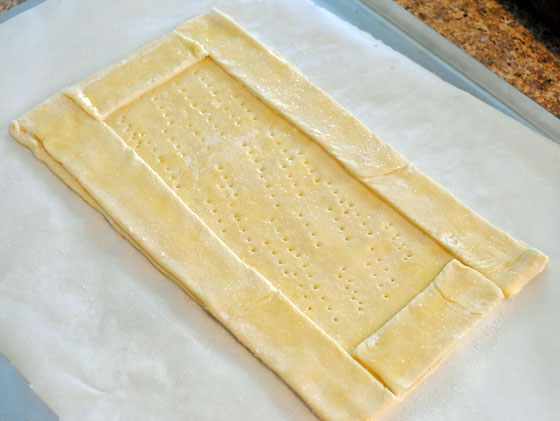 For the puff pastry, thaw it about 20 minutes first. You want the pastry to be pliable but still chilled. Be careful not to brush the cut edges with egg or it will prevent them from rising evenly. Don't worry about cutting perfect rectangles. I think having not-so-perfect edges add to its appeal.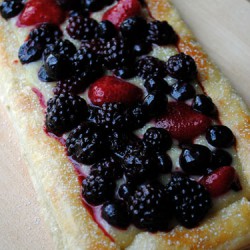 Gingered Lemon Berry Tart
slightly adapted from Cooking Pleasures, June/July 1999
makes 8 servings
per serving: 260 calories, 13g fat, 2g fiber
Ingredients:
Crust
1 sheet frozen puff pastry, thawed
1 egg, beaten
1 tbsp. sugar
Filling
1/2 cup sugar
1/4 cup fresh lemon juice
1 tsp. grated lemon peel
1/4 cup heavy whipping cream
3 egg yolks
2 tsp. finely chopped crystallized ginger
Topping
2 cups mixed berries, fresh (frozen not recommended)
Powdered sugar
Directions:
1. Preheat oven to 400F. Line baking sheet with parchment paper. On a lightly floured surface, roll puff pastry to 12x9-inch rectangle. Cut pastry to make 10x5-inch rectangle. Place on baking sheet. Brush lightly with beaten egg. (Do not brush egg over cut edges. It will seal the edges and won't rise evenly.)
2. Cut 4 (1-inch) strips from pastry trimmings. Place strips on edge of pastry rectangle, forming a 1-inch raised edge. Trim if necessary; seal edges together. Brush with egg. Prick center bottom of pastry several times with a fork. Sprinkle with 1 tablespoon sugar.
3. Bake 15 to 18 minutes or until golden brown and puffed. Center will puff up during baking. Pierce center several times with tip of knife; center will gradually sink during cooling. Cool on wire rack.
4. In heavy medium saucepan, combine all filling ingredients; beat with wire whisk until combined. Cook over medium-low heat, whisking constantly, until mixture thickens. If mixtures comes to a boil, remove from heat immediately. Pour mixture into medium bowl; cool completely.
5. To assemble, place pastry on serving plate. Fill center with cooled lemon filling. Top with mixed berries. Sprinkle with powdered sugar. Store in refrigerator, but best to eat the same day.
This post was sponsored by Frigidaire. When you check out Suzanne Goin's springtime recipes at www.maketimeforchange.com, Frigidaire will donate $1 to Save the Children's U.S. programs. Plus, you'll be entered for a chance to win the new Frigidaire Range with SymmetryTM Double Ovens – featuring two large ovens (that can each fit up to a 28 pound turkey!), providing the flexibility to cook multiple dishes at the same time at different temperatures, so you can get more on the table at the same time.