I'm the official birthday treat maker at work…and I have no problem with that role. Matter of fact, I live for that kind of stuff. I will use any excuse to make something sweet and I love seeing everyone get excited over cake. However, I think I set the bar crazy high with this Tunnel of Fudge Cake. I don't know how I'm going to top it. This is seriously one of the best chocolate cakes I have ever tasted. If you're a chocoholic like me, you'll fall madly in love. It's a chocolate cake with a thick ganache topping, and a tunnel of gooey, fudgy chocolate in the middle. Brace yourselves.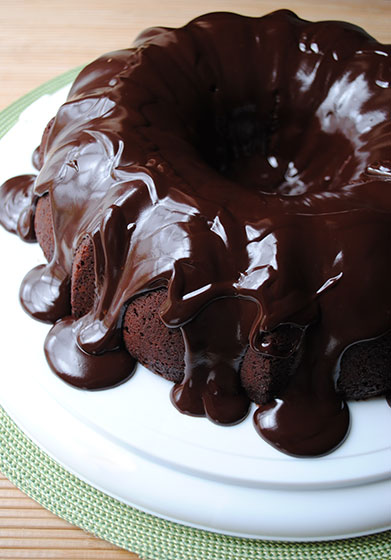 So, how's it taste?
I hope you like chocolate! See that glaze? It's madness. Complete madness. It slowly gets thicker and becomes almost like a truffle. I will say that it's too much for the cake. (What? Too much chocolate?) Yes, it's too much. You see what a mess that cake looks like, and that isn't even all of the glaze. I couldn't bring myself to pour on anymore. So I highly, highly recommend making 1/2 the amount of glaze…unless you are going for this crazy, hot mess of chocolate look. Now back to the flavor…
No one cared how sloppy the cake looked. I mean it's chocolate, and it's way over the top. When I think of glaze, I think of a thin coating. This stuff is thick and rich and decadent. It truly is like someone melted truffles over the top. The cake is super moist and chocolatey. It's got five eggs and a boatload of butter and different types of sugar. It is sugar coma inducing at first bite. But the best part is the tunnel of fudge. I have no idea how it works. The batter looks like any ordinary batter and there's no special instructions, but somehow during baking the tunnel forms. I almost want to disagree with calling it fudge. The consistency is more like pudding. It's not regular pudding though, it's the best pudding you'll ever taste. Rich, rich, rich.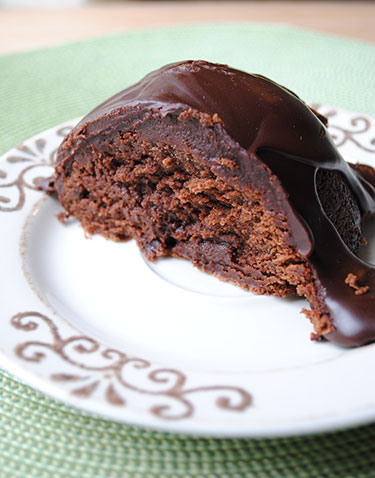 Cutting the cake was a little difficult due to all of the glaze, so the pieces ended up a bit smushed and it's hard to see the tunnel. But if someone handed you a slice, would you care? Nope! As the cake is cooling in the pan, it starts to really sink in. So much that I was worried I had ruined it. Don't fear though, that's just the tunnel of chocolate. Once you flip the cake over, it will hold its shape and you'll be the new best friend of anyone you share a piece with.
Update 2/25/15: Made this cake again and only made half of the glaze. It works so much better! It's still a good amount of glaze, so you're not missing any, but works much better, especially when slicing the cake. In the ingredients list below, I've included the measurements for making 1/2 the glaze.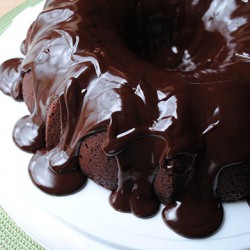 Tunnel of Fudge Cake
Ingredients:
Prep the pan
1 tbsp. Dutch-processed cocoa powder
1 tbsp. unsalted butter, melted
Cake
1/2 cup boiling water
2 oz. bittersweet chocolate, chopped
2 cups all-purpose flour
3/4 cup Dutch-processed cocoa powder
2 cups confectioners' sugar
1 tsp. salt
5 large eggs, room temperature
1 tbsp. vanilla extract
1 cup granulated sugar
3/4 cup packed light brown sugar
2 1/2 sticks unsalted butter, room temperature
Glaze*
3/4 cup heavy cream (6 tbsp. for half)
1/4 cup light corn syrup (2 tbsp. for half)
8 oz. bittersweet chocolate, finely chopped (4 oz. for half)
1/2 tsp. vanilla extract (1/4 tsp. for half)
*Note: I would suggest making half the amount of glaze. It's plenty for the cake without going overboard and wasting some.
Directions:
1. Preheat oven to 350F. In a small bowl, whisk together cocoa powder and melted butter. Using a pastry brush, evenly coat the inside of a 12-cup Bundt pan.
2. In a medium bowl, pour the boiling water over the chopped chocolate. Let stand 1 minute; whisk until smooth. In a medium bowl, combine the flour, cocoa powder, confectioners' sugar, and salt. In a liquid measuring cup, combine eggs and vanilla; beat lightly.
3. Using an electric mixer, combine the granulated sugar, brown sugar, and butter. Beat on medium-high speed until light and fluffy, about 2 minutes. With the mixer on low, add the egg mixture until combined. Add the chocolate mixture and mix until incorporated. Blend in dry ingredients until combined. Spread the batter into the prepared pan. Bake for about 45 minutes or until the edges of the cake begin to pull away from the pan.
4. Allow the cake to cool in the pan on a wire rack for 1 1/2 hours. The cake will begin to sink, but that's ok (that's the tunnel of fudge!). Invert onto a cake platter and allow to cool completely for 2 hours.
5. To make the glaze, combine the cream, corn syrup, and chocolate in a small saucepan. Heat over medium heat, stirring frequently, until smooth. Blend in the vanilla. Set aside for about 30 minutes, until slightly thickened. Drizzle the glaze over the cake and let set for at least 10 minutes before slicing. The glaze will set and become thick like a ganache.
*Note: I highly suggest dividing the glaze in half. It's too much glaze and will look better if you use less.