Happy Thanksgiving! I hope everyone is looking forward to a day of family, friends, giving thanks, and eating way too much! My Thanksgiving doesn't start until tomorrow since my mom is an RN and today is a work day for her. But the folks at the hospital aren't letting that phase them. They're having their own Thanksgiving meal with everyone bringing a dish. I thought I'd stop by and deliver this Classic Pumpkin Pie with Spiced Cream Clouds. By the time lunch rolls around, I will have completed my first race ever, the Boulevard Bolt! I'll be ready for some eating, so maybe they'll let me stick around, hint, hint.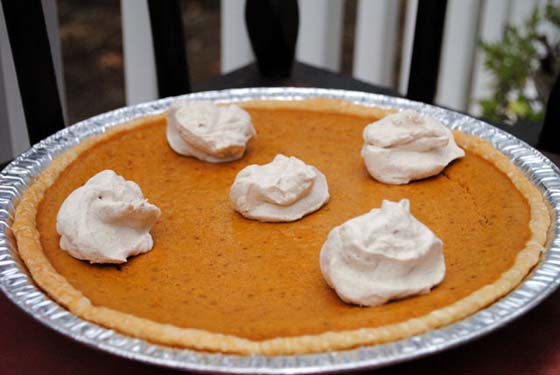 So, how's it taste?
This pumpkin pie is truly a classic. So simple, yet so delicious. This was only the second time I've ever made one, with the first being a week ago. I was so happy with the results, I knew I had to make it again. It's light and fluffy, full of pumpkin flavor, and oh those spices! I'm going crazy over everything pumpkin and anything with cinnamon, ginger, nutmeg, or cloves. The smell is incredible and the taste puts such a warmth in your belly. This pie gets jazzed up with the spiced cream clouds and man, are they delicious! You do not want to skip making them. Mix whipping cream, pumpkin pie spice, and brown sugar until stiff peaks form, dollop onto a cookie sheet, and freeze. You will not believe how good they are. The brown sugar and spice really make it something special. And how cute are those clouds?!
I cheated with mine and used a Pillsbury refrigerated pie crust. I don't have the patience or desire to make my pie crust from scratch. If you're like me, I highly recommend Pillsbury, otherwise try the recipe below.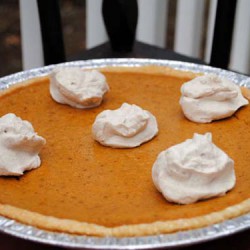 Classic Pumpkin Pie with Spiced Cream Clouds
Ingredients:
Pie Crust
1 cup all-purpose flour
1/2 tsp. salt
1/3 cup plus 1 tbsp. shortening
2 to 3 tbsp. cold water

Filling
2 eggs
1/2 cup sugar
1 tsp. ground cinnamon
1/2 tsp.salt
1/2 tsp. ground ginger
1/8 tsp.ground cloves
1 can (15 oz.) pumpkin (not pumpkin pie mix)
1 can (12 oz.) evaporated milk
Spiced Cream Clouds
1/2 cup whipping cream
1 tbsp. sugar
1/4 tsp. pumpkin pie spice or ground cinnamon
Directions:
1. In medium bowl, mix flour and 1/2 teaspoon salt. Cut in shortening, using pastry blender (or pulling 2 table knives through ingredients in opposite directions), until particles are size of small peas. Sprinkle with cold water, 1 tablespoon at a time, tossing with fork until all flour is moistened and pastry almost leaves side of bowl (1 to 2 teaspoons more water can be added if necessary).
2. Gather pastry into a ball. On lightly floured surface, shape dough into flattened round. Wrap pastry in plastic wrap; refrigerate about 45 minutes or until dough is firm and cold, yet pliable.
3. Heat oven to 425°F. On lightly floured surface, roll pastry with floured rolling pin into round 2 inches larger than upside-down 9-inch glass pie plate. Fold pastry into fourths; place in pie plate. Unfold and ease into plate, pressing firmly against bottom and side. Trim overhanging edge of pastry 1 inch from rim of pie plate. Fold and roll pastry under, even with plate; flute as desired.
4. In medium bowl, beat eggs slightly with wire whisk. Beat in remaining filling ingredients. Place pastry-lined pie plate on oven rack to prevent spilling the filling. Pour filling into pie plate. Cover edge of crust with 2- to 3-inch strip of foil to prevent excessive browning.
5. Bake 15 minutes. Reduce oven temperature to 350°F. Bake about 45 minutes longer, removing foil during last 15 minutes of baking, until knife inserted in center comes out clean. Cool 30 minutes. Refrigerate about 4 hours or until chilled.
6. In chilled small bowl, beat topping ingredients with electric mixer on high speed until soft peaks form. Serve pie topping with whipped cream.