Another great batch of cookies from Cookie Baking Day 2012 are these Butterscotch Spice Cookies. I found them on the Duncan Hines web site a year ago, but decided not to make them. Then a few months ago, while I was baking Apple Cider Cupcakes, I looked on the back of the cake mix box and there was the recipe for Butterscotch Spice Cookies. They sounded so good and I knew they had to make the list this year.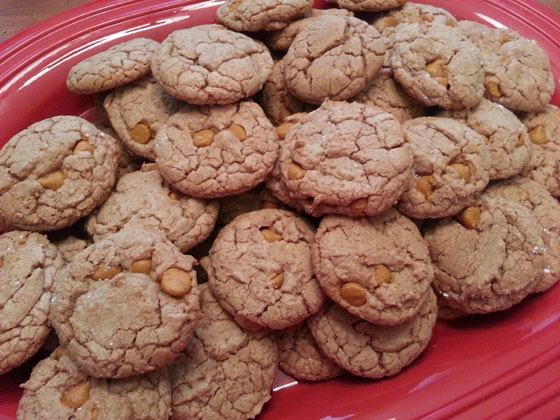 So, how's it taste?
If you're a fan of butterscotch, you'll love these. I'm a fan, but I always forget about butterscotch chips and head for the semisweet. Their flavor is nicely complimented by the spices in the cake mix. Since these cookies start out from a cake mix, they are incredibly easy to make. Be warned the dough is really greasy. Almost to the point you think they won't turn out well. But press on because they are awesome! Once they bake, they lose that greasy sheen and turn into super tasty cookies.
Other goodies from Cookie Baking Day 2012:
Cream Cheese Spritz
Cranberry Orange
Snickersnaps
Mint Chocolate Pudding
Mexican Wedding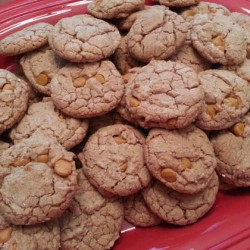 Butterscotch Spice Cookies
Ingredients:
1 box Duncan Hines® Moist Deluxe® Spice Cake Mix
2 large eggs
1/2 cup vegetable oil
1 tsp. vanilla
1 cup butterscotch chips
Directions:
1. Preheat oven to 375°F
2. Combine cake mix, eggs, oil, and vanilla in large bowl. Beat at low speed with electric mixer until blended. Stir in butterscotch chips. Drop by rounded teaspoonfuls 2-inches apart onto ungreased baking sheets.
3. Bake at 375°F for 8 to 10 minutes, or until set. Cool 2 minutes on baking sheets. Remove to cooling racks. Cool completely. Store in airtight container.