I absolutely love weekend mornings. I can sleep in, I can take my time enjoying a cup of coffee, and I have plenty of time to make a really good breakfast. During the week I'm scarfing down a bowl of cereal and out the door, but not on the weekends. So, why am I telling you this on a Monday? Because it gives you something to look forward to in making these Raspberry Crescent Twists this weekend!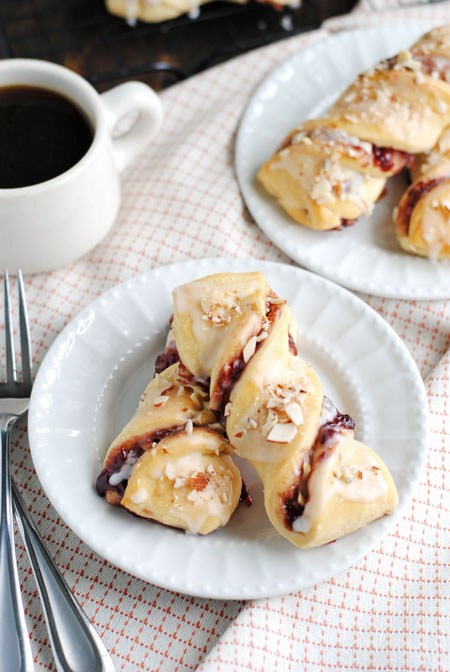 So, how's it taste?
I've been making these for years and they are just divine. Even though I save these for weekend breakfasts, they take no time at all, just a bit of prep. I use the reduced fat crescents because they're less greasy, but certainly use the one you prefer. Simply roll out the crescent dough and press the perforations to seal them. Spread the raspberry jam and chopped almonds on one rectangle and cover with the other. Seal the ends, cut into strips, and twist!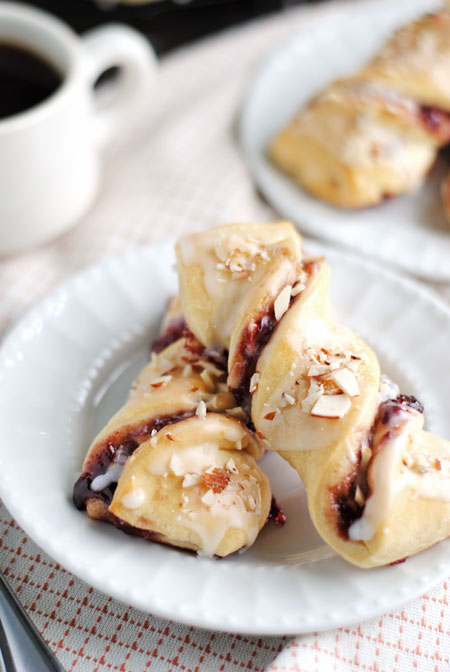 I love the flaky, light crescent with the tart and sweet jam. The almonds are on the inside and sprinkled on the glaze, so you get a really nice, nutty crunch. The best part is the glaze. It's made with almond extract and it pairs so beautifully with the tangy raspberry jam inside. I'm glad one recipe only makes eight, because they are crazy addictive. I'll tell myself I'm only eating one and I look down and three are magically gone. They keep pretty well in an airtight container for about a day. They're great right out of the oven, at room temperature, or heated up in a toaster oven. Feel free to experiment with different jams, too!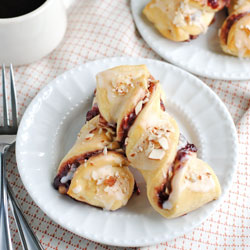 Yield: 8 servings
Prep Time: 15 min
Total Time: 35 min
Raspberry Crescent Twists
Ingredients:
Twists
1 can (8 oz.) refrigerated regular or reduced fat crescent dinner rolls
1/4 cup seedless red raspberry jam
1/4 cup sliced almonds, finely chopped
Glaze
1/2 cup powdered sugar
1/2 tsp. almond extract
1 to 2 tsp. water
Garnish
additional sliced almonds, finely chopped
Directions:
1. Heat oven to 375F. Line a large cookie sheet with parchment paper.
2. Unroll dough on cutting board into 2 long rectangles. Press each into 12x3 1/2-inch rectangle, firmly pressing perforations to seal.
3. Spread raspberry jam on 1 dough rectangle to within 1/2 inch of all edges. Sprinkle evenly with chopped almonds. Place second dough rectangle over almonds; gently press top and long edges to seal. Cut crosswise into 8 strips. Twist each strip twice; place 2 inches apart on cookie sheet.
4. Bake 11 to 13 minutes or until deep golden brown. Remove twists from sheet; place on cooling rack. Cool 10 minutes. Meanwhile, in small bowl, mix glaze ingredients until smooth.
5. Spread glaze over cooled twists. Sprinkle with additional chopped almonds.
per twist: 190 calories, 8g fat, 26g carbs, 0g fiber, 3g protein