I'm sure you'll recognize these Unbaked Fudge Cookies. Everyone's got their own version it seems and I've even seen them in grocery store bakeries. They're a classic. What I like best about the cookies is not that they taste like they could be make from crack, but the memories. As a kid, I remember very impatiently waiting on them. They seemed to take forever to be ready. It was a real treat when my mom announced she was making some. It's funny how you remember things as a kid, but then as a adult it's completely different. These cookies really take no time to make. It's the waiting on them to harden that seems to last an eternity. But read on and I'll tell you how over the years we've solved that problem.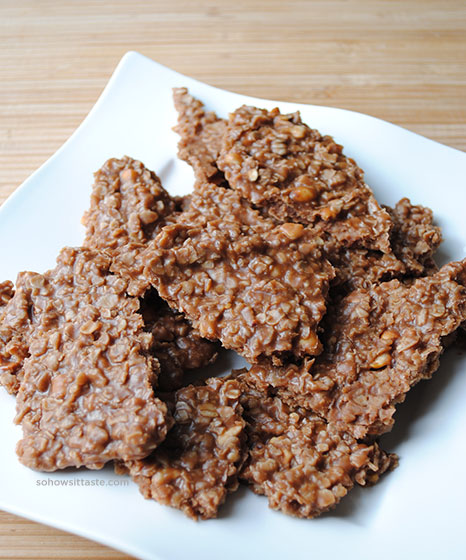 So, how's it taste?
It's kind of crazy how good these cookies are when they are so simple. I think it' comes from the massive amounts of sugar and butter. Those two make everything better, right? It starts in a saucepan, where you melt butter, sugar, and milk together. Once it comes to a boil and the butter has completely melted, take it off the heat and stir in cocoa, vanilla, oats, and peanut butter. That's it! It couldn't be easier. There's no baking involved, just a few minutes with a saucepan and you've got this gooey, chocolately of mess oats and peanut butter that is incredibly addicting. Now I use crunchy peanut butter and if you insist on using creamy you can, but it's not quite the same. Those little peanuts add a subtle crunch and it's a must in my opinion. But I'll save the creamy vs. crunchy PB war for another day. (Crunchy totally wins, by the way!)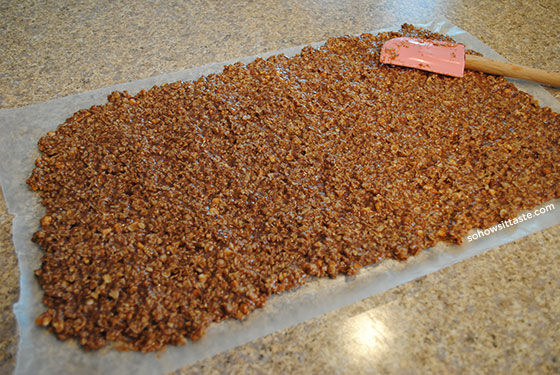 My mom always took out a sheet of wax paper and spread out the entire batch to harden. If you want to get fancy, you can drop the mixture by spoonfuls and have prettier cookies. But in our house, ain't nobody got time for that! I told you I'm impatient. Back when we used to make the full batch (more on that in a minute), you'd see this picture above except with a spoon because we'd keep coming in the kitchen and scooping up a bite or two. It's more fun that way. You feel like you're doing something sinful, rather than just making cookies.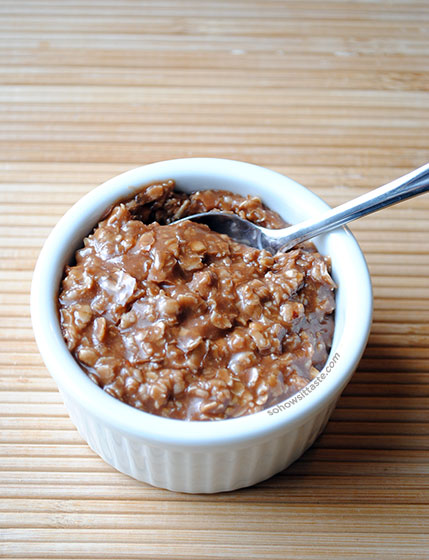 Eventually those sneaky spoonfuls led to us making 1/4 the recipe at a time. We realized that these "cookies" were much better hot out of the saucepan, plus you aren't stuck with a ton of cookies in a household of two. (Is that a bad thing?) Don't get me wrong, I love the finished cookie, but a cup of this straight from the saucepan and a tall glass of cold milk is pure bliss. I used to get in the kitchen and whip up a quarter batch and surprise my mom with a warm cup of chocolate oatmeal goodness. It makes just enough for two of the cupfuls you see in the picture above. I've being eating it this way for so long, that I'd almost forgotten about the cookies until it was time for them to make a long overdue appearance on the blog.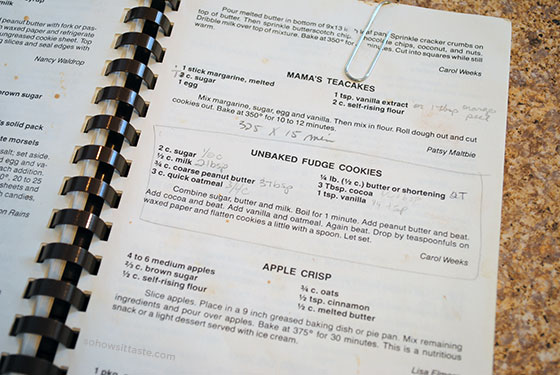 Another thing I love about this recipe is that it comes from a book that my great aunt gave to my mom back in 1986. You can see the paper clip to bookmark the recipe, along with all the markings to cut it down to 1/4. My mom still keeps this book and I have the ingredients written on a piece of paper stuck to my fridge. You'd think I'd have them memorized by now!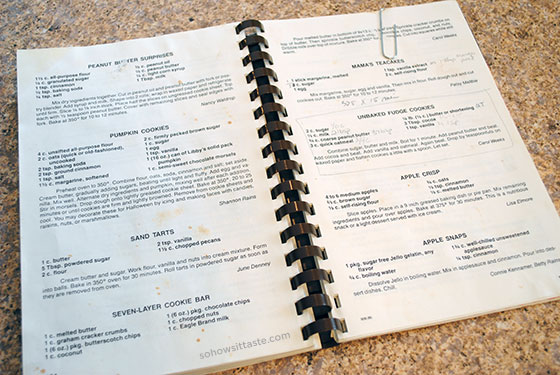 I always laugh looking through cookbooks because you can tell which recipe I've made. I'm the world's messiest cook and every page that has a recipe I've used on it, gets food on it. Just look how dirty this one is! I think that's a sign of a well-loved recipe. I hope these Unbaked Fudge Cookies bring back memories for you as well, and if you haven't tried it hot out of the saucepan, well then it's something old that's new again! Enjoy!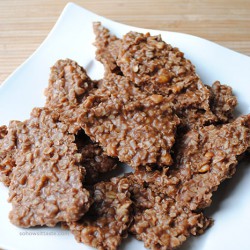 Unbaked Fudge Cookies
Ingredients:
Full Recipe
2 cups sugar
1/2 cup butter
1/2 cup milk (any fat level, almond milk works too)
3/4 cup crunchy peanut butter (creamy is ok)
3 tbsp. cocoa powder
1 tsp. vanilla
3 cups quick 1-minute oats
1/4 Recipe (serves two)
1/2 cup sugar
2 tbsp. butter
2 tbsp. milk (any fat level, almond milk works too)
3 tbsp. crunchy peanut butter (creamy is ok)
3/4 tbsp. cocoa powder
1/4 tsp. vanilla
3/4 cup quick-cooking oatmeal
1/8 Recipe (serves one)
1/4 cup sugar
1 tbsp. butter
1 tbsp. milk (any fat level, almond milk works too)
1 1/2 tbsp. crunchy peanut butter (creamy is ok)
1/2 tbsp. cocoa powder
1/8 tsp. vanilla
1/4 cup + 2 tbsp. quick-cooking oatmeal
Directions:
1. Combine sugar, butter, and milk into a large saucepan. Bring to a boil over medium heat and boil for 1 minute or until butter has completely melted.
2. Remove saucepan from heat. Add peanut butter, cocoa powder, vanilla, and oats. Stir until completely mixed. Make sure no streaks of peanut butter are visible.
3. Place wax paper or parchment paper on counter or cookie sheet. Pour cookie mixture onto paper and spread with spatula. Let cool until it hardens and you can peel off pieces. You can cool in the fridge to speed up the process. Store in an air-tight container at room temperature.
Source: Food for My Household, Hewett Memorial United Methodist Church, Carol Weeks