Oh bacon, can it get any better? Yes, yes it can! Coat strips of bacon in whiskey, brown sugar, and spices to make a quick barbecue sauce, and you have a bacon masterpiece folks. I was thumbing through the bacon issue from Food Network magazine a few months ago and instantly stopped when I saw all the ways to spice up already fabulous bacon. They had about six or so different varieties, but I gravitated toward the boozy one, plus I had all the ingredients on hand. Whiskey Barbecue Bacon did not disappoint and now I'm going to be flavoring bacon like crazy!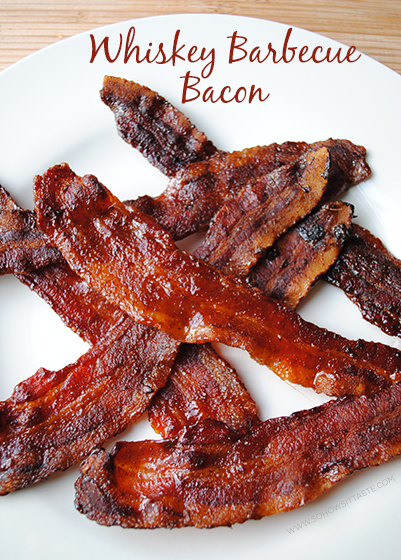 So, how's it taste?
I loved it. If you like candied bacon, this will be a favorite of yours, too. You could use any whiskey or bourbon you like for this, but I opted for Jack. I couldn't taste it in the final product, but knowing it was there gave me the warm and fuzzies. I like my Jack strong, so it could just be me. The spices in the flavored bacon seemed to get more intense as it cooled. I could really taste them, especially the chipotle. I think a little cayenne would be quite nice in this as well. They crisp up beautifully coated in that dark brown sugar. I like my bacon uber crispy (damn near burnt) so I let mine bake for the longest amount of time in the recipe. These are fantastic to snack on and would make one hell of a BLT. I've been chopping them into large pieces and sprinkling over my salads for a sweet/savory crunch. I cannot wait to chow down on the other flavors. It's a brand new world with this discovery!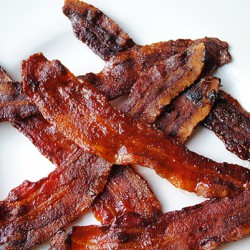 Whiskey Barbecue Bacon
Ingredients:
6 slices thick-cut bacon
1/4 cup dark brown sugar
1 tbsp. whiskey or bourbon (I used Jack Daniel's)
1 tbsp. ketchup or chili sauce
1/2 tsp. chipotle chili powder
1/2 tsp. chili powder
1/2 tsp. ground cumin
Directions:
1. Preheat oven to 375F. Line a rimmed baking sheet with foil and set a rack on top.
2. Lay slices of bacon on rack in a single layer. Bake until they start to crisp; 12-14 minutes.
3. Meanwhile, mix all the remaining ingredients in a small bowl.
4. Flip the bacon and brush with barbecue mixture. Flip bacon again and brush with the rest of the barbecue mixture.
5. Continue baking until browned all over; 12-16 more minutes. Drain on rack.