Bacon. Scallion. Cornbread. I almost feel like that's all I need to put in this post, along with its picture. I read those three words and I'm already pressing print for the recipe! This time of year, with the weather being cooler, I long for comfort foods and cornbread is one of them. A big bowl of soup and a big square of this Bacon-Scallion Cornbread and I'm more than ready for winter.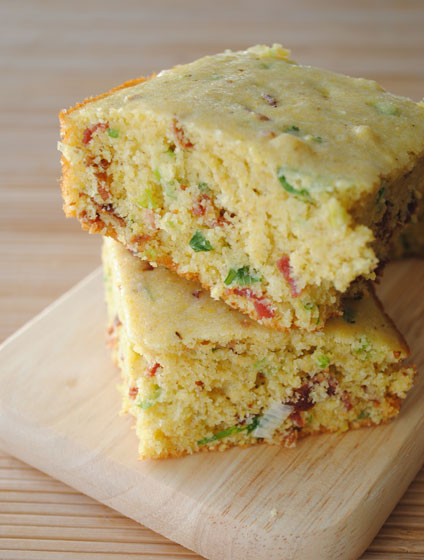 So, how's it taste?
Just  like you think it does…amazing! Let's face it, bacon makes just about everything better. Any recipe calling for almost a pound of bacon gets my attention. I had to cook mine in batches, it was so much! I love the color that the bacon and scallions add. Pale yellow background with bits of red and bright green. It looks as delicious as it tastes. It's moist and buttery and has a hint of sweetness.
I believe there's two kinds of cornbread people: sweet and not sweet. I lean towards the sweet side, but I don't want it to taste like cake. There's not a cornbread I'd turn down, but some folks are pretty strict about how they like it. This recipe has six tablespoons of sugar, so it's not heavy sweet, but it leans in that direction on the spectrum. I imagine you could leave out a few tablespoons if you wanted, but I'm not a food scientist so alter at your own risk!
The bacon and scallions help to balance the sugar, so I think just about any cornbread lover would appreciate a slice of this! I used a 9-inch pan and made nine large square servings. Any square pan will work and feel free to cut them as large or as small as you prefer. This recipe would also work well using a muffin pan. Enjoy!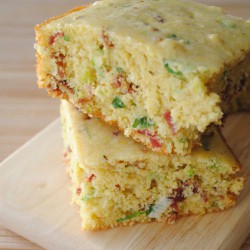 Bacon-Scallion Cornbread
Ingredients:
1/2 cup (1 stick) unsalted butter, melted, plus more, room temperature for pan
1 1/2 cups yellow or white cornmeal
1 cup all-purpose flour (spooned and leveled)
6 tbsp. sugar
1 1/2 tsp. baking powder
1 tsp. fine salt
1/2 tsp. baking soda
1 cup buttermilk
3 large eggs
3/4 lb. bacon
3/4 cup chopped scallions
Directions:
1. Cook bacon until crisp. Drain, let cool, then finely dice.
2. Preheat oven to 400 degrees. Butter an 8- or 9-inch square baking pan. In a large bowl, stir together cornmeal, flour, sugar, baking powder, salt, and baking soda. In a medium bowl, whisk together melted butter, buttermilk, and eggs. Add buttermilk mixture to flour mixture and stir just until combined (do not overmix). Stir bacon and scallions into batter. Transfer batter to pan and smooth top.
3. Bake until a toothpick inserted in center comes out clean, 20 to 25 minutes. Let cool in pan on a wire rack, 15 minutes, before serving.