I found the recipe for these Everything Pretzels back around Super Bowl time. I was drooling all over the magazine. I am a sucker for anything that's "everything," since I find it terribly hard to choose between flavors most times. I'm also a lover of carbs big time, so this seemed like a win win situation. Flipping through the same magazine, I decided to skip the usual mustard dipping sauce and see how ShaSha Sauce would pair with a pretzel. It was originally meant as a burger condiment. I fell head over heels for the sauce, but the pretzels…not so much.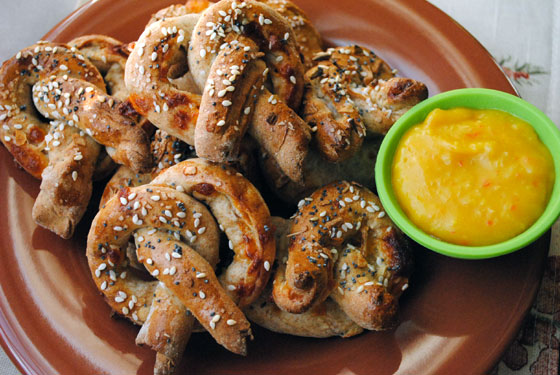 So, how's it taste?
I'm sure you've read on my blog before how I love baking homemade bread, but me and shaping the dough do not get along. These pretzels were ridiculously difficult to shape. I got so frustrated toward the end that I skipped the shaping and ended up baking blobs just to be done with it. They tasted ok, but not what I know of a soft pretzel. And I couldn't taste the cheddar inside at all. I'm not sure if it's because of the size mine ended up being, or because they use so much wheat flour (which I find changes the texture), or because I worked the dough to death desperately trying to make them shape properly. I couldn't roll them out long enough because the dough would dry so fast, so twisting them into the pretzel shape was damn near impossible.
What I did find though, is how amazingly delicious ShaSha Sauce is! I ate so many of these pretzels, even though they weren't that great, just to enjoy the sauce. It's a tangy, mustardy sauce made with hot banana peppers. Hello! Way, way better than regular yellow mustard or honey mustard. This sauce would be great on a burger, or a hot dog, or any other bread for dipping. You can vary the heat level depending on what type of banana pepper you buy. Take caution while you're cooking it though, the vapors are enough to cure your sinus problems!
I'm determined to conquer the soft pretzel, but at least I know what I'll be serving it with when that day happens!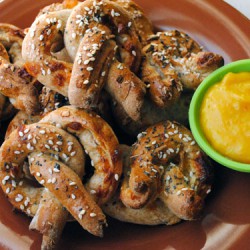 Everything Pretzels with ShaSha Sauce
pretzel by Guy Fieri, Food Network Magazine, January/February 2011
sauce by Michael Symon, Food Network Magazine, January/February 2011
makes 28 small pretzels
makes 3 cups sauce
Ingredients:
Everything Pretzels
1 1/2 tbsp. dry active yeast
1 tbsp. agave nectar
2 1/2 cups whole wheat flour
2 3/4 cups all-purpose flour, plus more for dusting
1 tsp. sea salt
1 large egg
4 tbsp. shredded cheddar
1 beaten egg
Poppy seeds
Sesame seeds
Onion flakes
Kosher salt
ShaSha Sauce
12 hot banana peppers from a jar, tops removed, chopped
4 cloves garlic
1 cup yellow mustard
1 cup white wine vinegar
1/2 cup sugar
2 tbsp. all-purpose flour
Directions:
1. For the pretzels, mix 1 1/2 cups warm water, the yeast, and agave in a bowl. Set aside 5 minutes.
2. In a food processor fitted with the dough blade, pulse the whole-wheat flour, 2 cups all-purpose flour, and the sea salt. Add 1 egg and the yeast mixture and pulse in 10-second intervals until the dough comes together, about 3 pulses. Turn out onto a floured board. Knead 10 to 12 times, adding up to 3/4 cup more flour if the dough is too sticky. cut the dough into 4 equal portions; cover with a clean towel.
3. On a floured board, roll out one piece of dough into a 14-by-11-inch rectangle, 1/4-inch thick, with a shorter side facing you.
4. Sprinkle 2 tablespoons of the cheddar across the middle of the dough. Fold the bottom third of the dough over the cheese, then sprinkle another 2 tablespoons cheddar over the folded part. Fold the top third of the dough over the cheese. Reroll and cut into strips.
5. One at a time, pinch the cut long edges of each strip together and roll into a 12-inch rope with your hands. Transfer the rope to a baking sheet lined with parchment paper. Grab the ends and bring the toward each other, forming a U shape, then cross the left over the right end to make a pretzel shape. Cross the left end over the right again to make a twist in the middle. Repeat with the remaining dough, spacing the pretzels 3 inches apart.
6. Brush the pretzels with the beaten egg and sprinkle with poppy seeds, sesame seeds, onion flakes, and kosher salt.
7. Let pretzels sit for 10-15 minutes and preheat the oven to 475. Bake pretzels until browned, 16 to 18 minutes.
8. For the sauce, in a food processor, puree the peppers, garlic, mustard, and vinegar.
9. Pour the puree into a nonreactive saucepan, then add the sugar and bring it to a boil over high heat. Lower the heat and simmer the mixture for 30 minutes.
10. In a small bowl, mix the flour and 1/2 cup water to make a smooth paste. Whisk it into the pepper mixture and continue to simmer for 20 minutes, stirring regularly, until it becomes very thick. Let the sauce cool, then pour it into a covered nonreactive container (such as a glass jar). The sauce can be refrigerated for up to 1 month.