Smoked Gouda is easily in my top 3 favorite cheeses. It's pretty incredible by itself, fantastic in grits, and the star of the show in this Ham & Smoked Gouda Pasta Salad. If you can boil water, you can make this pasta salad in no time. It's very filling, so it could be a main dish, but I've served a scoop of it alongside my Roast Beef Sandwiches with Sun-Dried Tomato Spread. Yeah, I know the salad already has ham, but it works, trust me.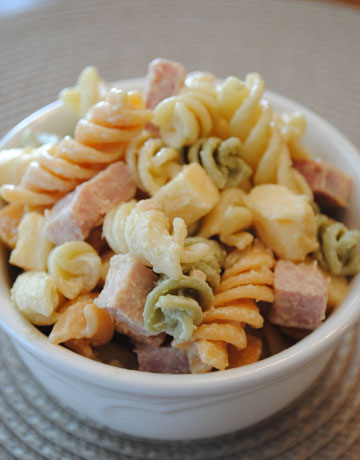 So, how's it taste?
It's pretty light to be such a hearty dish. The dressing is so simple, but the unusual combination really works with the chunks of ham and Gouda. Mayonnaise, honey, and Dijon mustard…that's it. I use a low fat mayo and it works great. I actually like the low fat better because of the slight change in flavor. It doesn't have a strong mayo taste like the full fat version. The honey and Dijon counter each other so the pasta isn't too sweet and isn't too tangy. You could use regular Gouda or even Cheddar in this dish, but the smoked Gouda is fantastic with the dressing flavors. It adds another element of flavor to make what appears to be a regular ol' pasta salad, a pretty standout dish. The original recipe includes celery, which I don't eat, but I think the crunch it adds would be nice for those of you that like it.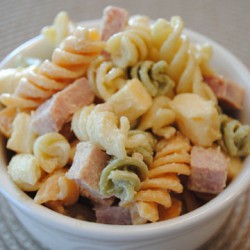 Ham & Smoked Gouda Pasta Salad
Ingredients:
2 cups uncooked rotini pasta (6 oz.)
1/4 cup mayonnaise or salad dressing
3 tbsp. honey
2 tbsp. Dijon mustard
2 cups cubed fully cooked ham
2 medium stalks celery, sliced (3/4 cup)
1 cup cubed smoked Gouda cheese (5 oz.)
Directions:
1. Cook and drain pasta as directed on package. Rinse with cold water; drain.
2. Mix mayonnaise, honey, and mustard in small bowl. Place pasta, ham, celery, and cheese in large bowl. Add mayonnaise mixture; toss to coat.