I love cooking meals in a slow cooker. It's incredibly easy and it makes your house smell amazing. This time of year it seems like my slow cooker is never off my counter. Anything that comes out of it could most likely be called comfort food. This Country French Beef Stew is no exception. Chunks of beef, herbs, two kinds of tomatoes, veggies, and bacon! Now you understand why this recipe made the list.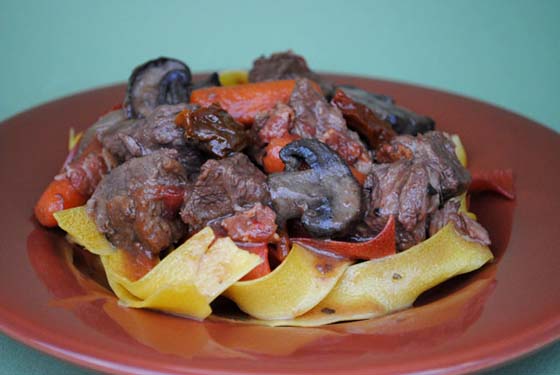 So, how's it taste?
Surprisingly, this stew took a few servings to grow on me. I was disappointed at first because with all that goes in it, I was expecting some major flavor. The bacon was pretty pointless. Once it's cooked for so long in the slow cooker, its flavor disappears. For some reason, this dish got better with the leftovers though. My first couple of servings were over noodles and then I tried it over rice. The rice worked much better. I also added some shaved Parmesan and the dish really perked up. The beef was outstanding. I used red wine in my recipe and the beef was filled with a great taste from it. I also liked the hint of sweetness from the sun-dried tomatoes. With my first few servings, I was expecting a traditional beef stew taste and this recipe doesn't have it. It's very different than your meat and potato variation. I'd make it again and leave out the bacon and add beef bouillon to up the flavor a notch or two.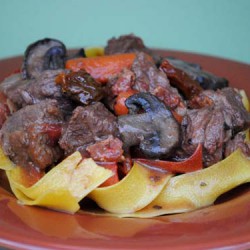 Country French Beef Stew
Ingredients:
6 slices bacon, cut into 1/2-inch pieces
1 boneless beef chuck roast (3 lb), trimmed of fat, cut into 1-inch pieces
1 large onion, cut into 1/2-inch wedges
3 cups ready-to-serve baby-cut carrots
1 cup red Zinfandel wine or nonalcoholic red wine
3/4 cup beef broth
3 tbsp. all-purpose flour
1 tsp. dried basil leaves
1/2 tsp. dried thyme leaves
1/2 tsp. salt
1/4 tsp. pepper
1 can (14.5 oz) diced tomatoes, undrained
1 package (8 oz) sliced fresh mushrooms (3 cups)
1/2 cup julienne-cut sun-dried tomatoes (not oil-packed)
Hot cooked egg noodles or cooked rice, if desired
Chopped fresh parsley or basil leaves, if desired
Directions:
1. Spray 5- to 6-quart slow cooker with cooking spray. In 12-inch nonstick skillet, cook bacon over medium-high heat, stirring occasionally, until crisp. Place bacon in cooker. Discard all but 1 tablespoon bacon fat in skillet. Cook beef in bacon fat 2 to 3 minutes, stirring occasionally, until brown. Stir onion into beef. Cook 1 minute, stirring occasionally. Spoon mixture into cooker.
2. Stir carrots, wine, broth, flour, basil, thyme, salt, pepper and canned diced tomatoes into mixture in cooker.
3. Cover; cook on Low heat setting 7 to 8 hours.
4. Stir in mushrooms and sun-dried tomatoes. Cover; cook on Low heat setting 20 to 30 minutes longer or until sun-dried tomatoes are tender. Serve beef mixture over noodles; sprinkle with parsley.